Help With Transport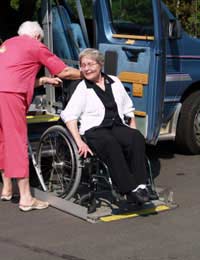 If you are disabled, there is no reason that you shouldn't be able to get out and about.There is a range of help available to help you both on public transport and if you have a car.
Public Transport
If you're disabled and travelling by train, it's well worth calling the train company before your journey to see what accessibility arrangements can be made to help you.
You can also save money through the Disabled Person's Railcard. This card could save you up to a third on every train ticket. This discount also extends to any other adults that you travel with.
You have to meet the eligibility criteria to get a Disabled Person's Railcard, then you can buy one for £18 a year or £48 for a three-year card.
Amongst those who qualify are:
The blind or visually impaired
The deaf or hearing impaired
Those who suffer from epilepsy
Those who are receiving a disability-related benefit
As a disabled person you're entitled to free off-peak travel. The details of these concessionary schemes will vary from area to area so it's essential to check what your local council is offering.
The times you can use your pass will vary. Some concessions also extend to train, tram and taxi services. You may also be able to use the concessionary passes beyond your immediate area.
Most large coach companies offer discounts for disabled passengers. Access to some coaches can be an issue for disabled people with mobility problems. Again it's worth calling ahead to arrange for your needs to be accommodated.
Driving
If you're a disabled driver you may need to make some modifications or adaptations to a car to make it suitable or more comfortable to drive. There is help available with the cost of this through the Motability Scheme. This scheme is run by the organisation Motability and can help with the costs of buying, leasing or adapting a car.
In order to be eligible for help through the scheme you'll need to be in receipt of either the War Pensioners' Mobility Supplement or the mobility component (at the higher rate) of the Disability Living Allowance.
If you have a child aged over three, who is disabled, you may be able to apply for help through the Motability Scheme to transport them around.
To find out more about the scheme you can call Motability on 0845 456 4566 or visit the Motability website.
Tax
If you are a driver who receives the mobility component of the DLA (at the higher rate), or a War Pensioners' Mobility Supplement, you may be eligible for exemption from car tax.
In order to be eligible the car must be registered in your name, or in the name of someone who cares for you. Importantly, the car must be mainly used for your purposes, for example taking you to medical appointments, shopping etc.
To get an exempt tax disc you need to apply to the organisation that pays your benefit.
Parking
Disabled people are eligible for parking fee discounts and exemptions through the Blue Badge Scheme. Disabled people in receipt of certain benefits can apply, and so can the parents of disabled children or carers who care for someone with certain mobility needs or who must carry a lot of mobility equipment around.
Blue Badges are issued by your Local Authority, and they can provide you with eligibility details and an application form.
Whenever you book any travel always ask what the arrangements are for disabled travellers and if any concessions are available. Most organisations will be glad to oblige.
You might also like...