Help with Equipment and Living Arrangements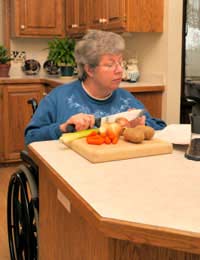 If you are disabled there is a range of help available to enable you to make your home as comfortable and safe to live in as possible.
Financial assistance can help you to buy specialist equipment or pay for adaptations to your home if you need them.
Disabled Facilities Grant
Disabled Facilities Grants are awarded by local councils to help disabled people adapt their homes to meet their needs. They're available in England, Wales and Northern Ireland. Your local council will usually ask an occupational therapist to come and assess your home to see if you're eligible for a Disabled Facilities Grant, and to assess what kind of help or adaptations you might need.
You can apply for a Disabled Facilities Grant for yourself, or on behalf of someone else. If you are a tenant your landlord can apply for a Disabled Facilities Grant on your behalf.
You can use a Disabled Facilities Grant to adapt your home, for example to widen doors, install a ramp, improve access to your home, or update the heating or lighting in your house.
The maximum amount of grant you could receive is around £25,000, but the actual amount is worked out based on your income. If you are applying for a Disabled Facilities Grant to adapt your house for a disabled child under 19, your grant won't be means-tested.
Help With Equipment
There is equipment available to help you cope better at home. Sometimes you'll have to pay for it yourself, but sometimes it's available for free or at a heavily subsidised rate. Examples of the type of equipment you might require and be able to get help with include:
A stairlift
A bath lift
A vibrating alarm clock for deaf people
Talking kitchen equipment for the blind or visually impaired
Sometimes the council will pay for all or part of this equipment so it's definitely worth getting in touch to find out.
If you're disabled and you work you may need specialist equipment to help you in the workplace. Under the Disability Discrimination Act your employer must make a reasonable effort to adapt the workplace for your needs.
The Independent Living Fund
The Independent Living Fund is in place to help disabled people live independently in their own homes for as long as possible, rather than having to move into a residential home.
The money you receive can be used to pay for care services in your home. In order to work out how much you're entitled to the local council will assess your income and the cost of the care that you need.
There are restrictions on what you can and can't use the Independent Living Fund for.
Other Help
On top of this help you may be eligible for financial assistance in the form of:
Grants and loans from your local council.
VAT relief: The cost of some building work to adapt the homes of disabled people is exempt from VAT.
Council Tax reduction: If you or someone who you live with is disabled you may be eligible for a Council Tax reduction or exemption. More information on this is available in our article Help with Housing Costs.
If you are a disabled person living independently contact your local council to discuss any help with equipment and living arrangements that you could be entitled to.
You might also like...
HI PLEASE CAN YOU TELL ME IF MY HUSBAND CAN CLAME TO HAVE A SHOWER PUT IN , HE HAS HAD 2 HIPS DONE 1 KNEE AN ANKLE FUSION DONE AND WAITING FOR OTHER KNEE TO BE DONE 2 WEEKS AGO HE HAD 4 HART ATTACKS AND HAD 3 STENCES PUT IN IM NOW HIS FULL TIME CARER AND GET AN ALLOWANCE HE HAS A BLUE BADGE FOR CAR WE LIVE IN A PRIVATE RENTED BUNGALOW AT 128 THE STREET WILLISBOROUGH LEES ASHFORD TN24 ON242 TEL 642426 REGARDS Mrs J Foster