Disability Living Allowance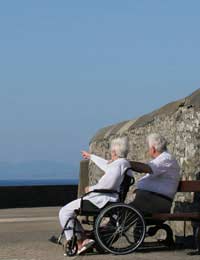 Disability Living Allowance (DLA) is a benefit for those who are disabled. It's available for children and adults and is classed as a tax-free benefit.
Eligibility for Disability Living Allowance
DLA is available to those aged under 65 who have a mental or physical disability, which requires care or mobility help.
Eligibility for DLA is not means-tested, which means that you could still be eligible if you earn an income from working, or you have savings.
In most cases eligibility for DLA will be assessed according to your application form but in a few cases you may be asked to undergo a medical examination. This will usually be because more detail is needed on your medical needs.
Disability Living Allowance payments
DLA is separated into two components: the care component and the mobility component. You may be entitled to one or both of these components.
The care component is paid towards any help you require with care such as personal care or help around the home. To be eligible for the care component you'll need to prove that you have a certain level of care needs. This may include help with washing, dressing and eating, help with preparing food, or needing supervision because you are on dialysis.
Those who need supervision so that they are not a danger to themselves are also eligible for the care component of DLA.
The mobility component of DLA is paid towards any help you require with getting around, such as help with walking or tasks such as getting into bed or the bath at home.
In order to receive the mobility component of DLA applicants will need to show that they have significant mobility needs, for example being unable to walk or requiring supervision to walk or go out safely.
Those who are severely mentally impaired or who have behavioural problems will also be eligible, as are those with a level of sight or hearing impairment.The DLA can usually be paid directly into your bank or building society, or into someone allocated on your behalf's if you prefer.
Rates of Disability Living Allowance
Within the two components of DLA there are then different rates of pay. The rate you will receive will depend upon the severity of your disability and the level of care that you need.
The care component has three weekly rates, the highest being paid at £64.50, the middle rate at £43.15 and the lower rate at £17.10.
The mobility component is paid at two rates: £45 and £17.10 per week.
Claiming Disability Living Allowance
You should claim for DLA as early as you can so that you don't lose out on any benefits you are entitled to. You can get an application form from your local Jobcentre Plus, or online from the Directgov site. You will need to specify if you're claiming for yourself or your child as there are different forms.
There is also a Benefit Enquiry Line for disabled people and carers and they can send you a form in the post and help you fill it in of you need it.
It's important that you fill the DLA application form in as accurately as possible and give as much detail as you can. Otherwise you could miss out on benefits you are entitled to, or delay the receipt of your payments. The form can be a little daunting, although it's straightforward to fill in. If you have any problems don't hesitate to call the helpline or ask a social worker for help.
You might also like...