What Are Therapeutic Communities?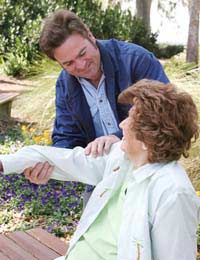 Therapeutic communities offer an alternative type of care for people with a variety of health issues, including mental and emotional disorders and long-term mental health problems. A therapeutic community doesn't apply to a fixed type of setting, but rather to the principles of the care that is offered.
The care and support offered in therapeutic communities is based on a communal approach, which is also democratic, collaborative and encourages participation. Treatment involves both health practitioners and other patients.
Therapeutic community care is usually voluntary, rather than other types of mental health care where patients are often detained under the Mental Health Act.
Therapeutic communities avoid using drugs to treat patients, in favour of counselling and other drug-free treatments.
Type of care Offered in a Therapeutic Community
Therapeutic communities offer a non-institutional care choice for people with mental and emotional health problems. Patients are helped to deal with and overcome their problems through a mixture of:
Group therapy
Individual counselling and psychoanalysis
Gradual community rehabilitation
Creative tasks
Interaction with other patients.
Types of Therapeutic Community
As we have stated above a therapeutic community isn't a particular type of setting, rather the term refers to the ethos of the care provided. Therapeutic communities can be found in a variety of settings such as:
Hospital units
Specialist residential hostels
Day centres
Halfway houses
Schools
Prison facilities
Attending a Therapeutic Community
Patients of therapeutic communities have often tried numerous methods of overcoming their difficulties. People who have had long-term emotional or mental health problems, and for whom other forms of treatment have been unsuccessful, are often referred by a medical professional to be treated in a therapeutic community. Patients can be referred by:
Psychiatrists and psychologists
Social workers
GPs
Counsellors
Teachers
Probation officers
It is also sometimes possible for patients themselves to approach a therapeutic community care organisation directly.
Paying for Therapeutic Community Care
The cost of therapeutic community care varies on an organisational basis. However, it can be very affordable and funding help may be available. If you or someone you know may be undergoing some therapeutic community care it's worth seeing if the community care organisation itself has any funding help and also contacting your local authority regarding financial help.
It's also possible to attend some therapeutic communities on a day or occasional basis, which is more affordable for many than residential care. Obviously this matter will depend on individuals' conditions.
The Future of Therapeutic Communities
Many believe that therapeutic communities should and will be further developed as a treatment option for those with mental and emotional problems. Several innovative approaches in therapeutic communities are developing. These developments reflect funding restrictions and individuals' lifestyles.
For example telephone, text and online therapeutic community support are all growing areas.
Recently a therapeutic community organisation in Cumbria set up an out-of-hours support website. When patients don't have access to the usual therapeutic community day care facilities, a website is manned by fellow therapeutic community service users. A facility such as this ensures that therapeutic community is continuous and still promotes a collaborative and group-based approach.
You might also like...