Disabled: Can I Claim Funding for a Cooker?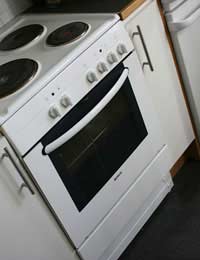 Q.I am a single leg amputee living independently in my own flat with the revelant care. I am also a three times per week dialysis patient. My cooker is unsuitable for my use and I have been told by my social worker that I can apply for funding for a cooker suitable for disabled use. I have been given a number to ring but it is always engaged. Can you help? Am I eligible for funding?
(Mrs virginia blackman, 10 September 2008)

A.
Your first port of call to find funding to buy a suitable cooker should be your Local Authority social services department. There is likely to be funding available to help you buy this cooker, but the exact allocation of funds like this depends on individual Local Authorities.
You may be able to pay for the cooker using a Disabled Facilities Grant. The Disabled Facilities Grant is funding which is in place to help people with disabilities to adapt their homes and live independently within them. Disabled Facilities Grants are means-tested which means the amount you are entitled to receive is based on your income and any capital that you have.
If you are receiving direct payments from your local authority you can use them to pay for disabled equipment such as this. You could use your direct payments to hire or buy a cooker suitable for your needs.
If you are considering using your direct payments to buy a cooker, always consult your local social services department first as there could be implications regarding who owns the cooker and who is responsible for its maintenance. You also have to ensure that the cost of any item is seen by the Local Authority as 'reasonable'. If the cost is more than they agree to pay you can pay the difference using your own money.
Individual Local Authorities may also have other grants and funds in place to help disabled people pay for independent living equipment such as a cooker so it is worth speaking to them before you look elsewhere.
Alternative Sources of Help
Financial help is also sometimes available from equipment providers themselves and also from charities.
You can research charities on a national, local and specialist basis. For example there are national charities which provide advice and financial support to disabled people and there are also charities who cater for people with specific disabilities. It is worth contacting these charities directly.
VAT Relief
It's also worth noting that those with disabilities don't have to pay VAT on equipment which has been designed solely for disabled people, or which has been adapted to meet their needs as a disabled person.
Products which are eligible for this VAT relief are referred to as 'zero rated'. Before you buy the cooker, or any other product designed for disabled people, check that the item is 'zero rated'. You may have to sign a form confirming that you are disabled and that the item is for your personal use, rather than for commercial or business purposes.
You don't have to reclaim the VAT as it is deducted at the point of purchase.
You might also like...
I am on e.s.a and p. I.p My cooker is almost 10 years old the top is rusted and some of the hobs don't work and the oven is now not working properly. I was wondering if I can get a grant for a new cooker ? I am not a home owner but I am over 55.
Gazza
- 15-Apr-22 @ 9:05 PM
My cooker just gone I'm one ESA n pip I duno were to trun to for help cz I now can't cook
Suzzie
- 26-Mar-22 @ 5:37 PM
I am disabled with arthritis in hands shoulder spine knees hip and ankle Also have high blood pressure and bad kidney My cookeris completely broken i prop the door shut with a calor gas bottle I need help with a cooker that is not on the floor as cant bend very well and have burmt myself Is ther anywhere that can help me Thank you
Kathy
- 23-Sep-21 @ 10:21 AM
i need a cooker and no one will help me and all i get is just over 200 ever 2 weeks i am find it hard to pay my bills and get the thinks i need donnt no where to get help now just dont no what to do for the best and i dont have a kid so dss wont help me i have no one two help me can someone help me as i need two eat
baby
- 11-Aug-21 @ 6:55 PM
I am currently receiving pip & ESA My cooker isn't safe the element in the oven is really high which is a fire hazard & only one of the rings work I got the cooker threw first point the cooker is from Dorset reclaim &I don't want to chance buying one off them again it's dangerous especially for someone like myself with severe disabilitys & I've never had a new nice safe cooker before
Kaz
- 17-Mar-21 @ 7:05 AM
Hi the council taking there cooker washer and microwave away on the 26th citizen advice have helped me get a washer fridge freezer etc im homeless in me own home and I've been diagnosed with ADHD and just started my medication I'm on medication for anxiety and on medication for insomnia and soon I'll be starting medication for paraonia I'm wondering is there any help out there as I'll not have a cooker and I've not got a double bed thanks
Ian
- 22-Feb-21 @ 2:45 PM
Hi i am a single parent with a 6 month ild baby he is to big fir his nosses basket and also my letric cooker has broke is there any help i can get please thank you
gem
- 13-Jan-21 @ 1:20 PM
I need help to get a electric cookerbecause it no good
joe
- 27-Nov-19 @ 1:52 PM
need new Cooker and need help getting help for disability Fla care and high mobility
ziggy
- 12-Jun-18 @ 3:03 PM
Hi mi cooker stop workin lights up fan still works just nt heating up is the any help can get for some1 to come out cheap for quotes cos need oven door to
Shaz
- 9-Apr-18 @ 10:01 PM
Louise- Your Question:
Hi I get higher rate care and mobility dla. I am in desperate need of an electric high riser chair. Can you advise where I can ask please
---
Our Response:
You need to contact your own local council and ask about a disabled facilites grant. You could also try the
Disabled Living Foundation here.
FundingCaring
- 3-Aug-17 @ 9:54 AM
Hi I get higher rate care and mobility dla . I am in desperate need of an electric high riser chair . Can you advise where i can ask please
Louise
- 31-Jul-17 @ 4:17 PM
I claim pip n ESA is there any help in getting a cooker
Sorry to hear about your cooker problem SweetieMunch. Here are some organisations that might be able to help: The Foundations Independent Living Trust, The Money Advice Service, Turn2Us, Carers UK, The Joseph Rowntree foundation, fit4funding, The Headly Trust - there are probably more. Hope you get one soon
hundredacrewood
- 3-Jun-14 @ 12:09 PM
I receive DLA, have no savings. I opted to have a car as I live in area that has a bus service every 2 hours.My cooker has broken and I need a new/reconditioned one.My local authority cannot help.Can you sugest any organisation that can help me.
SweetieMunch
- 2-Jun-14 @ 3:24 PM
I have an elecctrolux oven which does not heat up I rang our housing and been told I have to pay for the repairs myself I cannot afford to do this where can I get help from to help me pay to get it fixed or replaced ..
angie
- 12-Mar-14 @ 1:02 PM
am i entitled a community care grant towards , decorating ,and new wardrobes ? i get high dla and my husband gets cares allowance , and is on income support , we have no saveings what so ever
sugar
- 15-Jan-13 @ 6:49 PM