An Introduction to Respite Care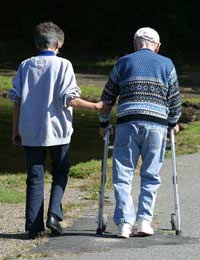 For many carers, the challenges they face in caring for their loved ones can quickly become part of normal everyday life. Often care can seem like a full-time job, with no salary, no holidays, no perks and very little reward. Care giving can be a demanding job, and to make it more bearable, it is essential sometimes to get some additional help. That's where respite care comes in.
What is Respite Care?
Respite care provides short-term relief for carers who look after family members on a full-time basis. Respite can take many forms, but boils down to two basic ideas: sharing the responsibility for caregiving and getting support for the carer. Finding the right balance requires persistence, patience, and preparation.
Carers can often feel guilty or choosing to taking a break from the person they are looking after. However, it is important to remember that opting for respite care is not taking the easy option or means that you are a bad carer. If you forget to put your own needs first sometimes increase the chances of becoming ill, anxious or depressed, which can make life more difficult for you and the person you are caring for.
Government-Funded Respite Care
If you are interested in finding out whether you qualify for respite care, the first step will be to speak to your local authority. A social worker will then carry out a respite care assessment for both you and the person you care for. This assessment will consider the health of the person you look after and will determine the community care services that are available to you both.
The assessment is means-tested which means it will also determine whether you are charged for respite care. Most services are free, but several have a minimum and a maximum charge. The means-test will estimate what it is reasonable for the carer to pay.
Some local authorities will offer respite care vouchers, which can be exchanged for specific services, while others will issue direct payments to the carer. The person who receives the payment has to ensure that the money is spent in what the authority considers to be an appropriate form of respite care.
Even if you are not eligible for government-funded respite care, there are still other options available to you.
Different Types of Respite Care
The most popular form of respite care is to have someone come into your home and help you by taking up some of your responsibilities, even if it is just for a short time. One could also argue that home respite care is the most difficult to arrange and, if suitable carer cannot be found can be the most frustrating.
Once you have found a suitable home carer, that both you and the person you carer will get along with, you should make sure that they have a full understanding of what it is you would like them to do.
For example, you should think about detailing some clear instructions for them regarding the person they will be caring for, including their preferred daily routine, medicinal and or dietary requirements and even any cultural or religious believes that it would help if the home carer was aware of.
Day Care Centres
Most local communities have day care or community centres, which have trained staff that can care for your relative for a few hours. Another invaluable benefit of such centres is the opportunity for you both to meet other people in similar situations, and to take part in interesting activities together.
Short-Term Centres
Sometimes carers need to take a longer break, or may even need to leave home for a short period. In these circumstances the person you care for may qualify for a short-term stay at a residential or nursing home. Staff in such homes can provide full-time support with day-to-day activities, although if the person you care for has demanding health needs, a nursing home could be more appropriate.
Places in such homes are usually limited and expensive, so if you feel such a break is necessary it is worth talking to your local authority as soon as you can and try to make a booking well in advance.
Holidays
Most people take the view that holidays become a thing of the past once they take on the role of carer. There are, however, a number of charities and also voluntary groups that offer specialist holidays for carers and the people they look after, for example, the Princess Royal Trust for Carers.
Emergency Respite Care
Finally, it is well worth considering drawing up a respite care plan in case of any emergencies, such as a death in the family or accident or illness. Start by thinking about the first people you would want to call on in such an emergency, and let them know that they are on your list.
If further care might be required, talk to your local authority who should be able to provide you with some emergency helpline numbers or contact details.
Part of being an effective carer is being organised, able to plan ahead and to eliminate problems before they get too big to handle. Exploring the respite care options available to you should become part of your care provision planning, before you become overwhelmed or exhausted. In many cases, just knowing that outside help is there can help to remove some of the burden from a carer's shoulders.
You might also like...