If Both You & Your Partner Need Care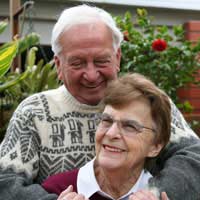 As many couples are of a similar age, they may worry about what will happen to them and their property if both of them need to go into a care home. There will also be concerns about how to pay double care home fees, as well as fears about the possibility of having to live separately.
We look at the practical implications of a couple both needing to go into a care home.
Financial Assessment
If you have decided to pay your care home fees yourselves, without help from the Local Authority, you won't need to undergo a financial assessment. However, if you would like financial help from your Local Authority to pay for your care home fees you will need to have your finances assessed to see what help you are entitled to.
Regardless of whether you are moving into the same home or not, the Local Authority will assess your finances separately. Your means will be assessed on an individual, not a couple's basis.
You will be each be assessed in terms of any capital or assets that you have and on any income. If you have less than £21,500 each you will both be eligible for help with paying your care home fees. If either of you has more they will have to pay towards their care home costs.
In the case of any joint assets, these will be split in half for the purposes of the financial assessment.
Can Couples Live Together in a Care Home?
There have been a number of reports in the media of couples who have been forced to live separately, when one or both of them have needed care. This can be devastating for elderly couples, many of whom have lived together for most of their adult lives.
The reasons given for these separations have been that only one of the couple has needed care, the couple's care needs have both been different, or that one half of the couple has been entitled to financial help whilst the other has not.
However, many care homes do appreciate the feelings of married couples and will do everything they can to ensure that married couples who both need care can live together in a care home. Often double or single rooms are available.
The Future
The government has recently noted that it is taking concerns about the welfare of the elderly in care homes very seriously. In March, 2008 the government announced that by summer of 2008 plans will be unveiled that will mean many more elderly couples will be able to stay together if they have to go into care homes.
The government also announced plans to provide an extra £80 million of funding for extra care housing with the aim of enabling more elderly couples to be able to carry on living together. Extra care housing is especially for the elderly or those with care needs. It provides more care than sheltered or retirement housing while still allowing residents to live in their own homes. Many older people, and especially couples who want to continue living together, choose extra care housing as an alternative to moving into a care home.
Types of extra care housing include:
Close care housing is situated adjacent to a care home. Residents can receive care from the care home, while still living in their own home. Close care housing is often chosen by couples, or those who will need to move into a care home in the future but would like to carry on living independently for the time being.
Very sheltered housing means that residents are still able to live in their own homes, but they also have access to a full range of care support and services.
Retirement villages may be a small group of flats or bungalows, or a larger more village-like complex. They are specifically for old people and often have medical care or a care home onsite.
You might also like...