Looking After Someone Else's Financial Affairs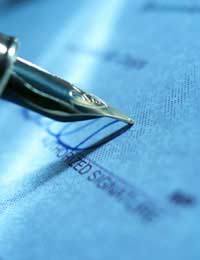 Caring for someone doesn't always have to involve taking charge of their physical needs. For example, if you are responsible for the care of someone with a mental illness, then you might find that their judgement is simply too impaired by their illness for them to be left in charge of their decisions.
This could mean that their financial affairs need to be handled by someone else, if they cannot be relied upon to look after everyday items such as paying bills, receiving benefits or managing credit cards or loans.
Carers often find themselves out of their depth when asked to deal with someone else's financial affairs. The good news is that some sensible planning can make this painful and often laborious process considerably easier.
Taking Care of Debts
It is an all too common fact that mental health problems often come with debts, and debts can frequently be the cause of mental health issues.
They may simply not be able to cope with bills or paperwork, or have gotten themselves into a dangerous cycle of overspending. Many people find themselves becoming increasingly withdrawn as their financial affairs get on top of them, often risking their home or falling victim to loan sharks or other people out to exploit them.
How Can I Help?
If someone you care for is no longer able to look after their finances successfully, then it is up to you to ensure that their finances can be returned to an even keel in the short term, and improved in the longer term.
Start by assessing their financial position, paying close attention to the priority debts and regular payments, and the non-priority bills or items that could be cut out of their monthly budget altogether.
A Third Party Mandate
If you feel that a relative or person you care for is struggling for control of their finances, then you can be granted temporary access to their bank accounts.
You would need to get them to sign a third party mandate, which is a formal instruction for their bank or building society to grant you temporary access to their account.
Claiming Benefits
If you think it would be easier for you to make applications for benefits on your relative's behalf, you can become an 'appointee'.
In order to do this you must notify the Department of Work and Pensions and fill in Form BF56. Once this form has been submitted you can expect a visit from the DWP to assess your situation and to grant you appointee status.
Once this has been approved you will be legally entitled to collect the benefits, such as council tax benefit, housing benefit or income support, of your relative on their behalf.
Legally Acting on Someone Else's Behalf
If you feel that it would be necessary to legally act on someone else's behalf, or taken on certain financial responsibilities, then there are several ways in which you can get this accomplished.
You can apply to the Court of Protection to be appointed a person's Deputy. This will give you the power to make financial decisions on that person's behalf. This means you will be legally permitted to take decisions relating to personal finances, property and their health.
The application process to become a Deputy can be quite lengthy. There are several forms to fill in and the criteria to take charge of someone's finances is deliberately stringent in order to prevent fraud.
Fees are usually payable to the Court of Protection, although these can be waived if the Deputy has a low income or lives in financial hardship.If you are concerned that taking over someone else's finances could cause family friction or resentment, it is possible for two or more Deputies to be appointed to act for the same person.
After the Court of Protection has reviewed an application to become a deputy, they usually make a ruling within 21 weeks. It is a lengthy process but it does become legally binding after the ruling is made.
Once you have been appointed, then you are officially responsible for your relative's finances. To ensure that you can do this smoothly, it is worth contacting their bank or building society informing them of the change, and pointing out that you have been appointed as Deputy. At this point the bank will ask to see the official notice of the decision, as well as proof of your identity.
Taking over the finances of someone you are caring for can be a lengthy process, but it is in all cases a worthwhile one.
You might also like...