Working With an Occupational Therapist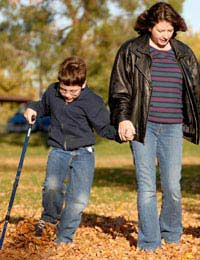 The job of an occupational therapist is to help improve the quality of life of people suffering from health conditions that affect their day to day living. Occupational therapists help to improve their ability to perform daily tasks, both around the home and in the workplace.
Part of their role is to help people develop new skills or recover old skills that they may have lost as part of their condition. The ultimate goal of an occupational therapist is to help patients regain their independence and to live normal, productive and satisfying lives.
Who Can Benefit from an Occupational Therapist?
Occupational therapy is useful for a variety of different patients and for several conditions, including for example people diagnosed with Alzheimer's Disease, autism, or people who have suffered from a stroke or a debilitating accident.
What Can an Occupational Therapist Do for You?
Occupational therapists will work with the patient and the carer to develop a specific programme of treatment to suit the individual requirements of the patient, while also bearing in mind the needs and responsibilities of the carer.
They will also make recommendations regarding the patient's home and work environment, and suggest appropriate adaptations and living aids for key spaces such as kitchens, bedrooms and bathrooms.
Occupational therapists are qualified professionals and they can provide training with carers on specified tasks such as 'moving and handling' patients. The aim is to ensure that the patient is comfortable but also to make sure that the carer is performing the tasks in the correct way, without putting their own health at risk.
When will I see an Occupational Therapist?
Whether you are allocated an occupational therapist will depend on your individual circumstances. Most therapists are employed by National Health Service trusts, in clinics or work out of GP practices.
Patients who have been discharged from hospital are likely to have an occupational therapy assessment as part of their aftercare plan. This could lead to you being assigned a therapist for a specified period and you could be eligible for financial assistance with any adaptations necessary to your home or work. Some companies and commercial organisations offer occupational health services to encourage employees back to work, and it could be included as part of your company's private healthcare.
Getting Occupational Therapy Assistance
If you are a carer and believe that your patient should be receiving some form of occupational therapy, you should start by considering the sort of help you think your patient needs. For example, do they require help with everyday tasks, at home or at work? Does their home require some adjustments to make their daily life more comfortable? It helps to draw up a list of problems and possible solutions before you look for a therapist to contact.
The first place to start would then be to contact your patient's GP or hospital clinic to explain your requirements. If you have been managing without any NHS assistance you should contact your local social services office for their recommendations.
Understanding the Limitations of Occupational Therapy
Occupational therapists provide an invaluable service in terms of improving the quality of life for patients and carers. Unfortunately, as with many healthcare professionals, there is a shortage of good therapists and limited NHS funding for therapy provision. This means that many patients may find it difficult to get enough advice and care in order to reach the level of rehabilitation they feel they need.
Indeed, many carers have complained about how simple requests for equipment and personal programmes have been difficult to get processed. You should therefore try to be very specific about the level of care required, both in terms of man hours, equipment and different skills required and be persistent in trying to obtain that level of care.
You might also like...