Care Costs: Planning Ahead for Care Funding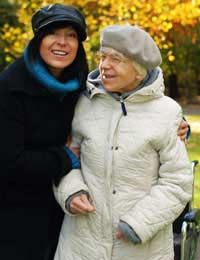 Ask UK residents whether they have made financial provisions should they need to pay for care in later life and the chances are that the majority would reply that it was something that they either hadn't thought of or had no idea how to afford even if they did.
In fact, a combined survey conducted by Help the Aged, Carers UK and Counsel & Care discovered that two thirds of people living in the UK had set aside no money to fund their care in old age, and they didn't intend to either.
This short-sightedness and simple lack of appropriate planning can have a devastating effect on the quality of life of a person should they be required to fund their own care as they get older.
Too Far Off to Think About?
For most of us, old age seems so far away that it is simply not important enough to worry about. Many people have enough bills to pay at present without thinking about how they can set aside cash for care much further down the line.
For many of us, care options and how to pay for them, will only ever be considered once we, or people we love, are in a position where we immediately need them. When this happens, many people are alarmed to learn that they have to pay the costs of care themselves.
Care Doesn't Come Free
The concept of a free National Health Service only really applies to emergency hospital care. When long term care is required, the stark fact is that increasing numbers of people are finding themselves having to use their own money to fund care costs.
Councils employ means testing, which is used to calculate just how much income a person or a family has. Then, the costs of care will take this ability to pay into account. The figures beyond which care fees have to be paid are staggeringly small.
In England and Northern Ireland anyone with assets worth more than £22,250 will be required to pay for their own care costs. This figure includes the value of any property they may own.
Of even greater concern for many people should be the growing costs of care. Gaining a place in an average care home is likely to cost in the region of £23,500 a year, or roughly £445 a week. Some nursing homes, where the care required is more expensive, can cost as much as £32,000 a year.
So How Can People Fund Their Care?
Many people find that whatever savings they have are swiftly swallowed up by care costs. For many people, the simplest option is to sell their home to fund their care.
This, however, may not always be the best course of action and there are alternative ways to fund care without selling the family home and wiping out your children's inheritance.
One of the most popular current methods is the take out an Immediate Care Plan (ICP), or an impaired life annuity.
Understanding ICPs
An ICP is a form of annuity that provides the owner with a guaranteed level of income, payable for the whole of their life. This annuity is paid in exchange for a lump sum investment.
As with all annuities, the longer they are expected to pay out for, the more expensive they are to pay for. On the other hand, if the person who takes out the annuity dies earlier than expected, then their family and inheritors will lose money.
Impaired Life Annuities
An alternative to an ICP is an impaired life annuity. These are especially useful for people who are suffering form what are considered serious medical conditions, such as cancer or heart disease. People diagnosed with serious conditions are treated as having a reduced life expectancy, which means that the amount paid out by the annuity is usually considerably higher than available with a standard annuity.
The Value of Good Professional Advice
What is most important for those seeking options to fund care, is helpful professional advice. A qualified financial adviser would be able to determine just how much funding would be needed to pay for care over the long term, and can also suggest the best types of investments or annuity products to achieve the required income.
They should also be able to help with other important financial decisions, such as the sale of assets or arranging a will.
For most of us, care provision is something that appears to be a long way off. The sooner we start to think about how to pay for it, however, the better prepared we will all be should that time in our lives manifest itself.
You might also like...
Mags- Your Question:
My mum is 94yo lives on her own and owns her own flat. Last month she needed to go into a care home for 2 weeks due to confusion after forgetting to take her pills and is getting frail.We are now thinking that in the future she may need to go into a care home full time. We have heard that if she signs her flat over to us now.my sister and myself. and continues to live in her flat for a further 6 months then the government cannot touch her flat. Can you please give us any advice to this.Wether that is correct or not. She has made a will.Mags
---
Our Response:
There is actually no set time limit, most local authorities will carry out their own investigations when they carry out a financial assessment to see if someone should pay for their residential care. Some authorities investigate further back than others. If they see that the property was gifted to you after your mum had already spent some time in care (albeit temporarily) they may view it as deliberate deprivation of assets. You may want to look at the possibility of renting out the flat to pay for her care. It would then still be part of her estate when she dies.
FundingCaring
- 10-Jan-17 @ 12:28 PM
My mum is 94yo lives on her own and owns her own flat . Last month she needed to go into a care home for 2 weeks due to confusion after forgetting to take her pills and is getting frail .We are now thinking that in the future she may need to go into a care home full time . We have heard that if she signs her flat over to us now ....my sister and myself..... and continues to live in her flatfor a further 6 monthsthen the government cannot touch her flat . Can you please give us any advice to this.Wether that is correct or not . She has made a will . Mags
Mags
- 9-Jan-17 @ 1:56 PM