What You Need to Know About the Carer's Allowance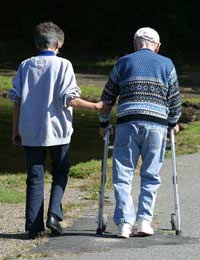 If you are responsible for the care of a disabled relative or loved one you may have heard about financial support called the Carer's Allowance. This is an allowance designed to help out people who spend large proportions of their time looking after someone with disabilities, to such an extent that it has practically become a full time carer job.
What is Carer's Allowance?
Carer's Allowance is a taxable benefit provided by the state and is available to anyone aged over 16 who spends at least 35 hours a week looking after someone who is entitled to receive either Attendance Allowance, Disability Living Allowance, or Constant Attendance Allowance.
How Much Are Claimants Entitled To?
If you are entitled to receive Carer's Allowance, then you will be eligible to receive a weekly payments of £53.90. Bear in mind however that you will pay income tax on the amount you receive and that if you also receive other benefits this amount can be reduced.
How is it Paid?
If you have a bank account with a bank or building society then you can arrange for the Carer's Allowance to be paid in automatically. If you do not have a bank account you might be able to get someone else to collect the allowance on your behalf.
Who is Not Entitled to Receive Carer's Allowance?
Unfortunately, Carer's Allowance is not available to anyone considered to be in full time eduction or employment elsewhere, only to those who spend the equivalent of a working week looking after someone.
This means that you would not be eligible if you were receiving education for 21 or more hours a week, or if you were in between terms but due to return to education shortly. Any education courses where required attendance is less than 21 hours per week, however, is considered part-time so you could still be eligible for Carer's Allowance.
What about the Employed?
The Carer's Allowance was designed to help those who effectively have had to give up a full time job in order to care for someone with disabilities. Therefore the Government makes it clear that you would not be eligible to claim Carer's Allowance if you earn more than £100 a week from employment (after deduction such as income tax, national insurance and pension contributions).
You can only claim Carer's Allowance if you are residing in the United Kingdom and your residency is not under any Home Office investigations or restrictions.
Will The Carer's Allowance Effect my Other Benefits?
Claiming Carer's Allowance can affect other entitlements that you, or the person you care for, are currently receiving. Some benefits will be positively affected, but some will suffer a negative effect.
For example, if you receive a State Pension, then you may not be considered eligible for the full Carer's Allowance amount, as you would not be in full time employment if you were not a care provider. Instead you may be considered eligible for what is known as an 'underlying entitlement'.
If you receive Housing Benefit or Council Tax Benefit, then your local council is entitled to increase this payment to include a 'carer premium'.
What About Keeping up my National Insurance Contributions?
If you have to give up your job to provide care for someone, you may be worried that by stopping your national insurance contributions you may make yourself ineligible to receive the full State Pension when you retire.
The good news is that the Carer's Allowance rules take this concern into account. For each week that you receive the allowance a national insurance contribution will be added to your overall contribution record.
You might also like...
PLEASE can you tell this info im now my husband full time carer I get the carer,s alowance he has just had 4 hart attacks and cant walk with other problems we need to get a shower put in as cant get in a bath and im having to wash himdown each day I have problems with arthrius and wonderd if we would we get any help to do this we live in a bungalow but dont own it it is a private rent but have permission to put shower in regards Mrs J Foster