Training for Carers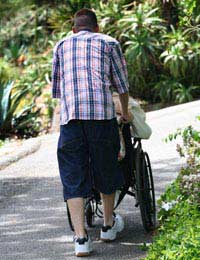 There are around 4.91 million unpaid carers in the UK, according to the latest figures. They may be interested in accessing training to help them in their capacity as a carer or perhaps to expand their other skills so that they can seek external employment now or at a later date. However, many are put off training by worries about money.
There is some help available for unpaid carers to access free training, although many carers' rights organisations say that more should be available and that it should be offered in a structured way.
What Kind of Training is Available?
Training is available that is both directly related to your work as a carer and that may be related to other job skills. For example, training courses are available on matters such as caring for someone with dementia or cancer. Often these courses are aimed at unpaid carers and put on by charities so are free of charge.
You may be able to access free training on health and safety issues such as lifting and carrying without damaging your back or on practical issues such as managing money. Other courses deal with the emotional aspects of caring such as coping with caring and taking care of yourself as well as the person that you care for.
Additionally, depending on your circumstances, your income and the benefits you are eligible for, you may be eligible for free non care-based skills training.
Where Might I Find Training?
Training is provided by organisations such as local councils, disability charities and carer support organisations. It is worth asking your local council for any help, funding or support for training that they provide, or any training programmes that they themselves run.
Research charities and carer support organisations in your area and nationally to see what training they offer or if they can advise about training support that you may be able to access or be entitled to.
For training related to health and safety issues such as lifting and carrying, ask your GP or social worker who should be able to advise.
Caring with Confidence
Caring with Confidence is a programme launched in May 2009 and is part of the Government's New Deal for Carers and the National Carers Strategy. It aims to improve the training support already available to carers. Caring with Confidence provides free online sessions, local study sessions and practical self-study workbooks. Go to caringwithconfidence.net/ to find out more about how you could benefit.
Non-care training
If you're also interested in taking some training not related to your care work but feel you can't afford it, there might be financial help available. Many literacy and numeracy courses are free, for example, and if it's the first time you have studied for GCSEs or A-levels, those courses are free too.
If you're on certain benefits, you may qualify for a Learning and Skills Council funded course. If there's a course you would like to do at a local learning centre, ask if you could be eligible for funding for it.
Getting out of the house and to training courses can be difficult for carers. However, there are also plenty of free learning resources and courses which you can do online.
Why Take Training Courses?
There are a number of good reasons for carers to take training where possible. These include:
Making sure you're working as safely as possible and not risking your health or someone else's.
Training can boost your confidence and help you put more into and get more out of your caring role.
Training can help you find out about support services and other help you're entitled to.
Some training means you'll get a recognised qualification.
Training can help you to connect with others in a similar situation to yourself.
Training for something unconnected to your care role can help you feel fulfilled and focused on your personal goals as well as being a carer.
You might also like...