Will My Family Have to Pay for My Care?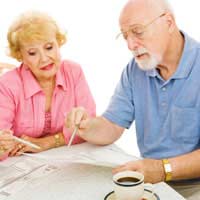 For those approaching the time when they need to receive care or live in a care home, finances may well be uppermost in their minds. Often people worry about the cost of care and fear that their family will have to pay for it.
The good news is that usually your family won't have to pay for your care, so you don't need to worry unduly about them financially.
How the Payment of Care is Worked Out
If you would like to be considered to receive financial help with paying for your care, you'll need to undergo a needs and financial assessment. However, if you plan to pay for your care yourself you'll need to make sure that you have enough money. Average costs are estimated at £112,000 per person over their lifetime.
If you are applying for financial help you'll be entitled to some if you have less than £13,000 in assets. If you have more than £21,500, you won't be entitled to any help.
The Local Authority will set an amount which they can pay for a home for someone with your care needs, and you will usually look for a suitable home in that price bracket.
Assessment
Financial assessments for help with care home fees are carried out on an individual basis. This means that only your income, savings and other means will be assessed, not those of your husband or wife.
If you and your husband or wife have joint savings only half of these will be taken into account. If you will be receiving a private pension, your spouse at home should also be entitled to 50% of this.
Your spouse or partner could be asked for what is called a liable relatives' contribution. The liable relative rule was ended in 2007, so although the Local Authority can ask for this contribution it is discouraged and quite rare,
Property
Even if you and your partner own your own home, it won't be counted as capital if they or another specified person continues to live in it. These people are:
Your spouse or civil partner
Close relatives aged over 60, or who are incapacitated
A close relative under the age of 16, who you are parent or legal guardian of
Your ex spouse, civil partner or partner (if they are a single parent)
In certain cases your carer
Third Party Top Up
If you choose a care home which costs more than the council has agreed to pay you may still be able to move in there if someone else agrees to pay the difference. This is called a third party top up agreement and is usually paid by a close friend or relative. Whoever agrees to pay the top up fees will sign a contract with the Local Authority.
You can't pay top up fees from your savings.
Those that are entering into a top up fee agreement need to think seriously about if and how they can afford to pay the top up fees. Before signing the contract they should also discuss with the Local Authority what will happen if the care home fees increase.
You might also like...