Supported Housing Schemes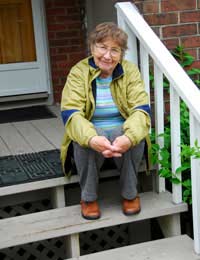 For those who are elderly, disabled or have mental health problems, being able to live independently is often really important. Through supported housing it's possible for many disabled people to live independently, while still receiving the care and support that they need.
There is a wide variety of supported housing available, covering all levels of need. This article will focus on supported housing to facilitate independent living so it doesn't cover residential care homes which are covered elsewhere on this site.
Outreach Support Housing
Outreach support housing usually means a group of council or housing association flats which are allocated to local support workers. These support workers will visit residents at home regularly, and provide both practical and emotional support.
Residents who live in this type of housing can usually live fairly independent lives and don't have very high support needs.
The cost of outreach support housing is usually in line with general council and housing association rental rates. It's common for tenants in outreach support housing to receive Housing Benefit or other income-assessed benefits. Living in outreach support housing will not affect any entitlement to benefits.
Hostels
Hostels offer short-term care, usually for homeless people or those with mental health problems. Hostels will often specialise in a certain group of people, whether it be the homeless or those with a particular mental health problem. This type of supported housing may cater for anything from 4 to 30 people per night.
Some hostels are men or women only. At some hostels those in need will just be able to turn up, but others are referral only, meaning residents must be referred by a health professional or social worker.
Hostels may be run privately, or by Local Authorities, charities or other voluntary organisations. As hostels don't offer personal care they don't have to be registered.
The cost of hostels varies, but as a guide you can expect to pay from £1 to £5 per night, and most do accept Housing Benefit and can advise residents on applying for it.
Sheltered Housing
Sheltered housing allows those with some support needs to live independently, while also having the security of access to help when they need it.
Unlike outreach support housing for example, with sheltered housing a support worker or warden actually lives on the premises.
Sheltered housing schemes are available to people with varying levels of care needs. Residents of sheltered housing schemes can either be tenants or homeowners. This costs will vary depending on the specifics and location of the accommodation. Housing Benefit and other benefits will usually be accepted though. Some sheltered housing schemes will charge an extra fee, on top of rental, to cover staff costs and maintenance.
If you are researching sheltered housing schemes and the cost involved, always make sure you get a clear idea of what is and what isn't included in any fees quoted. More information on Sheltered Housing is available in our article 'Sheltered Housing'.
Your GP or social worker will be able to advise you on the best type of supported housing for you and how to apply for it.
You might also like...
I have an elderly grandmother who is 90 yrs old, living in a flat alone, with no help, other than a nurse who visits her once a week to check in on her. I am concerned, she needs more than once a week help, she needs help with her grocery shopping, laundry, making meals etc. This past year most of our family has moved abroad working, such as myself, I now work in the USA, her son, who is my uncle, works in Egypt. My father is my grandma's 2nd son (she only has 2 sons) lives in UK however he is profoundly deaf as well as my mother. My dad suffers from a serious medical condition from an accident he had at work, which caused him to suffer serious damage for the rest of his life and he is on full time disability care, and my mother is his full time carer for now. My grandma keeps on relying on my sick father to do her shopping and running around for her, he is not allowed to lift anything for the rest of his life, however my grandma doesn't understand the seriousness of my dads illness. My dad has appointments set up to go for 3 operations on his neck and spine this year, his first op is end of April.
wendy wong
- 24-Mar-11 @ 5:37 PM