What Are Community Care Assessments?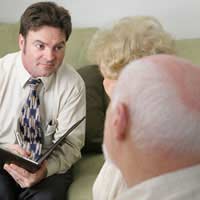 Community care assessments are carried out by Local Authorities in order to determine what care needs an individual has, and what financial and practical help they are entitled to.
People who might need community care services, and therefore could undergo a community care assessment, include elderly people, the disabled and those who are physically or mentally ill.
What is Community Care?
There are a wide range of community care services available. These include:
Care homes
Care in an individual's own home
Home helps
Home adaptations, for example to make the house suitable for a wheelchair user
Meal delivery
Leisure and social activities and events.
Undergoing a community care assessment will determine which services you need.
Getting a Community Care Assessment
If you feel that you, or someone you care for, needs community care services then you should contact your Local Authority social services department to arrange a community care assessment. A friend or relative can also request a community care assessment on your behalf.
The Local Authority will arrange a date and a time for the community care assessment. It will sometimes take place in your own home as a discussion. Although it isn't necessary, you are quite welcome to have someone with you, whether that is a friend, relative or a carer. Alternatively, in some cases you will be asked to fill in a form and other information will be gathered from people such as any social workers and GPs.
During a Community Care Assessment
A community care assessment is definitely not something to worry about. The assessors will take your wishes into account, as well as the recommendations of other health professionals.
They will assess issues such as:
Any physical and practical difficulties you may have, such as using stairs or getting in and out of bed.
Your housing situation and needs.
The help you have available to you, through friends, family and carers.
Any help which your friends, family and carers might need and be entitled to.
After the Community Care Assessment
If after your community care assessment it is agreed that you are entitled to community care services you will be provided with a package of care and a care plan.
A care plan will be something that you, your carer and the Local Authority can refer to regularly and it will detail:
Who will provide services for you
The services that they will provide and when
Details of who will be co-ordinating your care plan
The names and contact details of people you can contact if you have any queries
Information on when your next care plan assessment will be.
Care plans are evaluated regularly to ensure that you are getting the care that you need and that you are happy with how your services are being delivered. Care plan evaluations also make sure that your care plan is up-to-date and assess any changes in your care needs.
These care plan reviews usually take place at least every three months. You can request a review before the next scheduled one though if you feel it's necessary.
You might also like...