Employing a Carer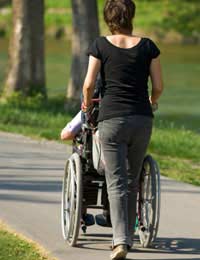 If you wish to continue living independently in your own home and would like to employ a carer to help you do this, there are a number of things which you need to bear in mind. You'll need to think about how to find and choose a carer, payment of the carer and employment issues.
Finding a Carer
There are three main options for getting a carer:
Having a carer provided by the Local Authority. This means they will arrange everything for you, and they will be the carer's employer.
Going through a care agency to get a carer. This gives you more freedom than having a carer provided directly by the Local Authority, but you still won't have to deal with employment issues. You will pay the care agency and they will be the carer's employer.
You can find a carer yourself and advertise for one directly. This means you get the most freedom but also means you have the responsibilities of an employer.
Paying For a Carer
If you want to receive help paying for a carer, you'll need to undergo a health and social care assessment with a medical professional sent by your Local Authority. If it is agreed that you need support in order to be able to live independently in your own home you'll usually receive Direct Payments. Direct Payments are payments from the council to a disabled or elderly person, so that they can arrange their care and support services themselves. More detail is available on them in our article 'Direct Payments'.
Once you know how much money you are eligible to receive in terms of Direct Payments you'll be able to work out what you will pay the carer and how many hours you would like them to work. If the Direct Payments don't cover your preferences, you can add to them with your own money.
Advertising For a Carer Directly
If you advertise for a carer yourself, there are a number of places you can advertise, for example:
In the local paper (although there may be a cost)
On relevant websites
At the local Jobcentre
In shop windows
In your advert you should include the following details as concisely as possible:
A brief job description
The hours of work and rate of pay
Any specific experience or qualifications which are essential
Your contact detail (It is strongly advised that you don't include your address. You could include an email address or a PO Box.)
You will then need to make a shortlist of candidates to interview. When you have chosen one it's advisable to check references from previous employers and possibly run a Criminal Records Bureau (CRB) check. If you choose to run a CRB check (it's strongly advisable) then you'll need you to ask your local social services department to run the check on your behalf.
As an employer you need to be aware that you have legal responsibilities, such as paying the carer, paying tax and national insurance and abiding by the law regarding time off and working conditions. These legal responsibilities are nothing to worry about and you can receive help and advice about following them from your Local Authority.
You might also like...