Respite Care Options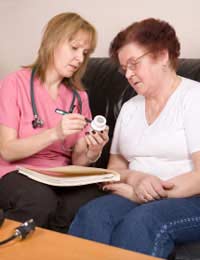 Respite care provides a temporary break for carers, or short-term help for those that live independently.
Carers may use respite care if they wish to take a holiday or a break, or if they themselves are ill. Those who live independently may need temporary help recovering from an illness or operation, or maybe easing themselves into residential care.
There is a range of respite care options available. More information about paying for respite care is available in our article Respite Assistance Availability and Funding.
Care in the Home
If it's suitable, care in the home can be the cheapest and least disruptive option. One option is to have friend or relative stay with the person who requires support. This can be very comforting for them if they know the temporary carer. If this isn't possible, there are other options for respite care in the home:
A friend, relative or GP may be able to recommend another carer in the area who will be able to provide some temporary care.
Placing a local advertisement in shops or the paper for a respite carer could forge a long-term respite care relationship and also means there is the opportunity for the carer and service user to get to know each other before the respite care period.
Home care agencies can be expensive but are a useful option in the absence of alternative arrangements. Your Local Authority will be able to provide you with a list of relevant agencies.
Care Away From the Home
If care in the home isn't possible there is a range of respite care options outside the home.
Residential homes provide residents with board, food, and personal care such as washing and dressing. Residential homes don't normally provide medical care, so if you have a specific condition a residential home may not be the best option.
Some residential homes have a minimum age limit ( usually 65).
Nursing homes provide the same care as residential homes, but can also offer medical care from qualified nurses. Nursing homes cost more than residential homes as a rule due to the higher staffing and resource needs.
Some homes offer a mix of residential and nursing care.
Respite care in a residential or nursing home may be charged at a higher rate than the standard fees because of the administration involved, and the fact that the stays are often arranged at short notice.
Day Care Options
It is possible for service users to receive respite care outside their home, without the need for an overnight stay. Your Local Authority will be able to provide details of day support available.
Day care centres can be a good ongoing option, with the opportunity to attend one or two days per week on a long-term basis.
Holiday Accommodation
Holiday breaks can be an enjoyable form of respite care and be taken by the carer and cared for person together or separately, with alternative care arrangements being put in place. Often a personal assistant relative or family member will accompany the carer and service user on the holiday to help out and take on some of the caring duties.
You might also like...