Help for the Families of Disabled Children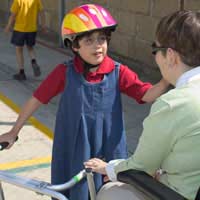 If you are the parent of a disabled child, you may well have higher financial needs than the parent of a non-disabled child. You may need to pay for specialist support or equipment and your ability to earn a full-time wage could be reduced.
Some families of disabled children do struggle financially, but it's important to make sure you are claiming all the financial help that's available to you.
Disability Living Allowance
The main source of help available for the parents of disabled children is the Disability Living Allowance (DLA). The DLA is paid weekly, and the rate that you will receive for your child depends on the level of their needs. You could receive up to £110 per week per child.
There are two components to the DLA: the care component and the mobility component. You may be entitled to one part of the allowance, or both parts at the same time.
More information is available in our article: Claiming Disability Living Allowance for your child.
Carer's Allowance
If you care for your child for more than 35 hours per week and they are in receipt of DLA, you could be entitled to a carer's grant. The Carer's Allowance is for anyone (you don't have to be a parent) who spends more than 35 hours per week caring for someone who is disabled.
Dependant upon other benefits the Carer's Allowance is usually paid at the rate of up to £48.65 a week, and deposited directly into your bank account.
In order to claim Carer's Allowance you can ask for a form at your local benefits office or download one from the Directgov website.
Direct Payments
Direct payments can be made to the parents of disabled children, instead of services. This means that parents of disabled children have greater choice and flexibility in the care services their children receive.
Direct payments for disabled children are available to parents with children aged over 16. Direct payments can be used for a variety of services such as:
To fund a short break for you and your child
To pay for assistance to attend an event or activity that will benefit your child
Personal care for your child
Employing a carer for your child
Your Local Authority will be able to provide advice on receiving direct payments for your child.
Disability Facilities Grants
If you need to make some adjustments to your home to facilitate your disabled child, contact your Local Housing Authority as they may be able to provide funding for this.
Grants to pay for property adjustments to facilitate a disabled child are not usually means-tested.
Other Benefits and Tax Credits
As well as the help detailed above, you may also be eligible to claim certain benefits and tax credits to help with your finances while raising a disabled child. Although some are not directly related to having a disabled child, they apply to the circumstances of many families with disabled children.
For example, if you are unable to work, or have to work less, because of your child's disability, you may be eligible to apply for benefits such as Jobseekers' Allowance and Income Support. Your Local Benefits office can advise you on assessment for relevant benefits.
You might also like...
Hello can you help me please.I am a single mum aged 52 with three children.My son is 14 and has autism and add and my daughter 10 has ad/hd and my other daughter 10 no special needs.I am trying to find out if I can get help with garden.I am on my own and cannot do this and I cannot afford to pay a gardener their fees.In addition to this.My garden was messed up years ago by some cowboys who lowered the level of the garden so now it doesn't drain properly is uneven and even dangerous to the degree where you can fall or twist ankle.I am trying to find out whether I can get funding to fix this either level and turf or ideally articial lawn so that my children can play outside which is particularly urgent when two have add as well as asd.Can you help or advice me please?My phone is 01372 805761
Debbie
- 17-Sep-19 @ 12:09 PM
Hi my daughter lives alone with her child whos 4 n has ds .She has a wheelchair due to her poor mobility n low muscle tone . Her back garden has been a mess n uneven since moving in our grandaughter cannot play out safely as it's overgrown n broken concrete n uneven levels .She has to come to us to play out or walk to park plz could anyone help x
Chickenpie
- 20-Jun-17 @ 9:40 PM
Hi get 3free children two with special needs my back garden either moved in in March and it's just over growing and I need new friends soon I just wondering if I can get an hour to make it safe as I'm disabled myself
T J C HASON
- 23-Jan-17 @ 2:33 PM
I need some assistance please. We have a Pastor and wife that has had a disable child. The Pastor works, but the wife is at home with the child. They have not been able to afford a proper transportation for the child. They need a van with a handicap lift. The child is getting older and heavier to transport. They both have done exceptional well since birth, but they need to some help.He stated once before that he made too much money and that can't be true. He works in the school system, impossible. The child also needs the right kind of bed to sleep in. She has always slept with the parents for protection. They don't want her to fall out of the bed. They could do for some other type of assistance also, but who can help this family and lending a helping hand. They don't have the resources. Please help. Thanks.
Mary
- 27-Sep-14 @ 6:27 PM
Hi i have a 6 year old son with complex needs and i have moved in to a council property and the back garden is not safe for him to play on the concrete is lose and becauce he has eye problems he falls sometimes and the rest of it needs landscaping to make it safe for him i just want someone to help me with this i do not ask for much
sparkle
- 6-Jul-14 @ 7:45 AM
Hi im a mom 4 young kids my 4 yearold serverly disabled and can't do nothink for is self im in a two bed room houseprivete rented cause I owe rent arreas f b4 I ad the children is their anythink I can do to help me pay the arreas off
momof4
- 25-Jan-13 @ 2:54 PM
I am a single mother of 2 daughters.They are my pride and joy and keep me smiling.Here is my situation...My oldest daughter is 8 and she has spina bifida.I live in an old ranch home that needs a lot of modifications.She is in a wheelchair and due to the small door frames and hall i have to carry her or she has to crawl.This is very hard as she is 70lbs and over 4feet tall.She does not have sinsation in her legs so she cuts herself and does not know until she sees blood.Can anyone please help me find financial resources.
Candace
- 12-Sep-12 @ 5:02 PM
Hello good afternoon my name is Maria and i have a disabled daughter and she is 7 years old and we need a caradapted forwheelchair butwe cant afford the full cost of the car .She is wheelchair bond nearly all day i have tried every charity in Jersey but they don't help private family .i would like to know if you could help me I live Jersey in the channel islands my contact is 01534 789584 Thank you for your attention Best Regards
joan
- 15-Aug-12 @ 9:06 PM
Greeting from Bangladesh! I live in a poor village of my country most of the people of the village are day labors. They have no capacity to help other people of my village. There are 8 disabled children (all documents are remained) and adult live my village out of them 04 is in the same family. They are living in a vulnerable situation. They have no capacity to bear the expenditure of their treatment as well as three meals in a day. I am a NGO worker, so I am exploring the best opportunity and kind hearted man who are interested to provide support for them. If any person or organization stand beside them along with essentials financial supports, which will helpful for us to reduce their vulnerability conditions.
Tultul
- 17-Jul-12 @ 3:47 PM
@Tessie The carers grant was introduced in 1999 to help councils provide breaks and services for carers. Following an assessment of your needs the carers grant may contribute towards a holiday, outings or any activities which enable you to have time to yourself, maintain your independence and to help you cope with your role as a carer. You need to contact your Social Worker or your local council. Good luck!
Abbie
- 14-Jun-12 @ 10:43 AM
hi i live in warwickshire and have heared of the term carers grant....does anyone know what it is and what you can spend it on thankyou tessie
tessie
- 13-Jun-12 @ 7:18 PM
I am a single mother of 3 kids 2 boys and my princess jayden she is 4 she is disabled she is in a wheelchair! They have yet to figure out what is wrong or if she will ever do anything... Was wanting to see about how I could get a mini van with a ramp so I could get her around where she needs to go
beth
- 27-May-12 @ 6:19 AM
my daughter has severe brittle bone and school wont let her go bck to school until she has a wheelchairthat is measured for her and serviced every yr if specail needs say they wont help could i get a grant for some of the costs towards 1 we have a wheelchair already but health and safty say its not good enuff
scooby
- 25-May-12 @ 6:34 PM
@Cassie. If you are disabled yourself you may be able to get some help, but it's unlikely if it's a job you could undertake yourself.
FundingCaring
- 2-May-12 @ 3:06 PM
i live in a council property that was adopted for my disabled son who love been out a lot but we cant let him play in the garden because its not safe as the whole garden its full of weeds so could you please help us thank you
cassie
- 1-May-12 @ 7:14 PM
We need help to sort out are garden for my to boys to play in as it's very unsafe it's a council property & my oldest has celebral palsey & can not walk he loves being outside but we can't let him play in the garden as its unsafe can I get any help to get it sorted.?
Hana
- 30-Apr-12 @ 6:34 PM
I have a 7 year old little boy who is hearing impaired.totally death when he dont have his device on.he cant talk that good but if you listen close you may be able to make out a few words he says.ive got to take him to chapel hill nc may 10th to have his device cut up.its hard on a single mother doing everything she can for the child and dont have no help.is there anyway anybody can help us???God will bless you in every way.I promise he will.I dont have a vehicle to take him back and forth to his doctors and i dont have the money.If you ask family they dont help because it's not there concern.I love my child and im not ashamed of him.every disabled child is special im my eyes.but i know God can heal them.all we have to do is have faith...May God bless you all
hoot
- 4-Apr-12 @ 5:48 PM
I have a 12 year son, who has not progressed in his studies. Up to date he is still in primary three. He is unable to write well at times he writes letters upside down and are not readable. I am a single mother with six children. My husband abandoned me with the children. I have no house to sit with these children. How can I be helped?
Akiteng Betty
- 1-Feb-12 @ 1:57 PM
I am a mother of 3 kids my oldest is 24 and my middle child is 15. Then there is my youngest who is 6 with autisum. I live in a 3 bedroom apt. but the rent is very high. Her dad helps out a lot but it's still not enough. She is in school and has improved a lot. I apply 4 ssi for her but they denied me bc of income. I am on disability myself have a heart problem. I struggle everyday with this. I get foodstamps which is good but clothes wise it's very hard but I try my best. I just want to know who I can talk to about housing and other things to make it better 4 me and my family.
angelique Ferguson
- 19-Jul-11 @ 8:58 PM
I need help my son he 6 year old boy he suffering for (micro epilipes) my son need long term treatment i am sing mother i have three children i need financial supportmy children no house we stay one of room please canyou help me and my sonplease help
MRS. N. Najeema
- 29-Jun-11 @ 8:50 AM
I am a 33 year old mother ofa 15 mo old baby girl with Cerebral Palsy.I have never been able to work because of cronic kidney stones since I was 12, but have never filed for disability.I also have a 10 year old daughter.I was married before I had my baby so I was able to support her by my husband.I am now single and cannot work because my little girl has to have therapy at least 4 times a week and sometimes 5.I cannot afford to move into an apartment.I applied for SSI which I just now started getting, but that is not enough to pay for housing.Can I get help somewhere?Thank you Kristin Pece.
Kristin
- 21-Jun-11 @ 7:04 AM
can any one help me with this are got any info.can i get funding for my daughter,she is going to stubers for a weekend in august 2011 with p.a.c.t,could i get funding for all the things she needs.clothes the is a long list of things she needs,i have just got a new bed from family fund so they cant help
kath
- 6-May-11 @ 8:31 PM
i need help with my garden so my child can play out
heidi
- 6-May-11 @ 4:25 PM
I have a special needs daughter who I've just found out may never be able to play out safely without supervision. We are stuck in a first floor flat from housing association and my daughter is very down. We need help. She just needs a house with a garden so she feels free again.
jojo
- 4-Apr-11 @ 3:15 PM
We need help to sort out our big garden in the back of our house. It's in a mess, the surface is uneven, has trees and too many flowers and it needs to be sorted out soon. My daughter can't play out she has Rheumatoid arthritis (RA) is an autoimmune disease that causes chronic inflammation of the joints. She has connective tissue disease as well. The garden needs to be clean and neat. I can't afford to sort it out. please can you give me more information on who and where to go for the garden improvement or grant.
shaz
- 28-Mar-11 @ 1:56 AM
We need help to try and sort our garden out for our disabled daughter to be able to play safely in, we have lived here for 6 months (council property) and apparently the council are not liable for the garden. Our daughter is hemiplegic and isn't very good on uneven surfaces and our garden is VERY uneven! How or where do we sort out any kind of help? The reason we were given enough medical points for her to have a house and gain outdoor space.
Chezlar
- 23-Mar-11 @ 6:01 PM