Visual Impairment: Know Your Rights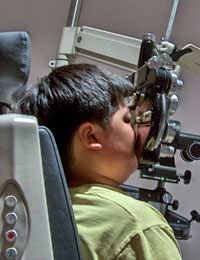 According to the Royal National Institute for the Blind (RNIB) nearly two million people in the UK are blind or partially sighted. Visual impairment can affect people's reading, driving, their ability to work and their mobility. The causes of visual impairment are many. For example, it could be due to an eye condition developed over time such as Macular Degeneration or Glaucoma, caused by diabetes or even as the result of an accident.
Coping with Visual Impairment
Whatever your personal circumstances, losing some or all of your sight is very distressing and has a big effect on your life. If you find that your vision is impaired you will need to make adjustments to your lifestyle and should try to seek help as soon as you can.
Should I Register as Partially Sighted or Blind?
Registering your visual impairment is not compulsory, but it can become useful if you try to apply for benefits or concessions. For example, you will be entitled to claim a Disability Living Allowance, a disabled persons' railcard and even money off your television licence.
In order to register your visual impairment you'll need to complete a Certificate of Visual Impairment form, which must be signed by your eye specialist (known as an opthalmologist). A copy of the form will be sent to you and your doctor and you will be placed on the Visibility Impaired register.
Depending on the degree of visual impairment, your specialist will determine whether you are registered as 'sight impaired/partially sighted' or as 'severely sight impaired/blind'.
How Will I Cope at Work?
If your sight becomes impaired it doesn't necessarily mean that you will not be able to continue with your job. Most employees are sympathetic to such medical issues and there are several ways that they can help, including providing specialist visual equipment such as screen reading software, screen magnifiers and voice recognition software. You may also be able to get support with your travel to and from work.
The Government has launched a scheme known as 'Access to Work' that is designed to provide practical support and advice for employees whose work circumstances have changed dramatically.
Will I be Entitled to Benefits?
Yes you will. There are a number of benefits and welfare schemes made available to people who are visually impaired. These include Disability Allowance, Carer's Allowance, Pension Credits, Tax Credits, Housing Benefit & Council Tax Benefits and even free prescriptions.
I am Suffering from Discrimination – What can I do?
If you feel that you are being discriminated against, either at work or in your neighbourhood, because of your visual impairment you do not have to suffer alone. You may be able to take legal action under the Disability Discrimination Act. If you feel that you are suffering from discrimination contact your local Citizens' Advice Bureau who should be able to give you further information on filing an official complaint.
Visual impairment is an intensely personal and potentially traumatic experience. It is therefore important to remember that you are not alone. There are many other people who have experienced what you are going through and there are several organisations dedicated to providing help, reassurance and understanding. RNIB (www.rnib.org.uk) can help you find local people or groups that can help give you the support you need.
You might also like...
I do not recieve benifits but hold a c.v.i for impaired eyesight do I pay for new spectacles and lenses, I recieve attendance allowance my date of birth is 1949
None
- 2-Mar-21 @ 11:51 AM
The hole thing is a joke. They said no to me I have frontal lobe damage to my brain and have sight problems because of this. I proved all of this before hand and they still said no. I tuck it to tribunal where I got to talk to humans how listened to me and they give me the high rate for both. So if I can say anything take it to tribunal. Can I ask you I'm being registered partially sighted at the moment the ophthalmologist has just done my paper work. What do you get when you are registered. Thank aaron
Horsfield86
- 6-Nov-19 @ 1:17 PM
Good afternoon, I'm registered as 'partially sighted' because I have a birth defect (spilts in the back of my eyes) & nystagmus. I've been claiming both components of DLA at the low rate for several years. I was awarded it indefinitely as my condition won't change. I've recently had to apply for the new PIP payment & went for my face to face assessment. I was shocked when the decision was made that I wasn't entitled to any pip at all, especially as I'm unable to drive due to poor eye sight & unable to plan a journey on my own as I can not see bus timetables etc. I also need assistance when preparing a meal as it can be difficult to do this with limited vision etc. I was horrified when I got the decision letter on Friday (19th July) according to the DWP I'm not disabled because at the assessment I appeared & I quote 'well kept' I am absolutely disgusted with is comment & find it highly offensive & discriminatory. Are the government seriously suggesting that disabled people can't take pride in the appearance & want to look presentable? Or that all disabled people have to look scruffy & unkept? I've have asked the DWP to reconsider their decision & plan to gain a copy of my medical records to send them. Any help/advice on this matter would be greatly appreciated. Kind Regards Claire Allen
Claire
- 21-Jul-19 @ 2:44 PM