A Guide to Employing a Carer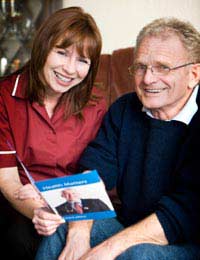 Many people who have a partner or spouse with care needs, choose to employ their own professional carer. Of course such a decision comes with its own complications, not least the fact that you have to assume the role of employer. So what are the responsibilities that the employer of a professional carer needs to be aware of?
Writing a Job Description
If you plan on hiring a professional carer, then the likelihood is that you already have a good idea of the duties you will expect them to perform. Nonetheless, it always makes sense to put these duties in writing, so that you have a formalised description of the role you are hiring for.
A good place to start is to think about what would be a typical day for the carer. Make a list of all the tasks that they will need to complete, and also think about any qualifications or qualities that a person would need to carry out each task (for example, a drivers licence or a nursing qualification).
Once these tasks have been set down, think about the number of hours employment it adds up to over the course of a week. That way you should be able to provide an honest assessment of the requirements of the role, the number of hours to be worked and it should also provide you with an idea of how much a carer will cost.
Finding a Suitable Carer
Once you have decided on the right person for the job, you'll still need to keep the process formal and conduct the necessary background checks to confirm their eligibility and suitability.
You should always ask the candidate for two references, one of which should be from someone they have previously cared for. You may also decide that a police background check is necessary. If so, ask your healthcare trust or a local voluntary organisation, they should be able to make a request for information on your behalf with the Criminal Records Bureau.
Paying Wages
Employing a professional carer should not really be considered as the 'cheapest' option, and bear in mind that you will be expected to pay your carer at least the minimum wage. The current national minimum wage is £6.50 per hour for adults over the age of 21 (October 2014). You should ask your healthcare trust for what is considered to be the 'going rate' for the care you plan to pay for.
Tax and National Insurance
By taking on the role of employer, you will also be expected to undertake responsibilities such as deducting tax and national insurance (NI) contributions from your carer's wages. These tax and NI contributions must of course be recorded and paid to Her Majesty's Revenue and Customs. The amount paid will be based on how much the carer earns.
This may sound like an onerous task, especially for anyone who is not used to handling money or calculating tax payments. Your local social services will be able to help you with HM Revenue & Customs forms that you will need to fill in.
Holiday and Sick Pay
Even part time workers are entitled to holidays and (usually) sick pay. There are also limits on the number of hours a worker is expected to work in the course of a week.
Employment Contracts
An employment contract is designed to protect both the employer and the employee, but setting out in clear terms what is expected from both parties. Many contracts are simply verbal agreements, but a written contract is usually advisable.
A written contract should feature the following:
the rate of pay
number of working hours per week
any holiday entitlement
sick pay guidelines
the notice period from either side (usually one month)
Contracts should be signed by both parties and a copy given to the carer for their records.
Liability Insurance
Finally, a little known requirement of an employer is to take out employer's liability insurance. This will cover you financially if your carer has an accident whilst at work or carrying out work related duties on behalf of their employer. Without employer's liability insurance you could be held directly responsible for any injury or compensation claims from your carer.
Taking on the employment of a carer may seem like a daunting prospect, but it needn't be. HM Revenue & Customs has a comprehensive website that explains the requirements of employers and contains all the forms that you will need to begin registering your new employer. Your local healthcare trust should also be able to provide you with good advice on how to find the right carer to suit your circumstances.
You might also like...