Financial Help for Carers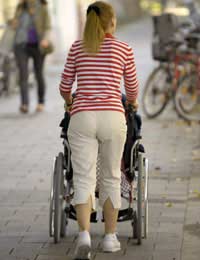 If you are a carer for your child, a loved one or another disabled person, there is a wide range of financial support which you could be entitled to. The main help available to you is detailed below.
Carer's Allowance
If you're over 16 and care for someone for over 35 hours per week you may be entitled to Carer's Allowance. In order for you to be eligible for Carer's Allowance, the person you care for must be eligible for one of the following:
Attendance Allowance
Disability Living Allowance
Constant Attendance Allowance
If you're earning over £95 per week or are in full-time education you won't be eligible. The weekly rate for Carer's Allowance is £48.65 but it's dependant on other benefits.
Direct Payments for Carers
If your Local Authority has assessed the situation and agrees that you need support services to help you in your role as a carer, you may be able to receive financial help for these services in the form of direct payments. Receiving direct payments means that you can choose and arrange the services yourself, rather than having the services arranged by social services.
You can contact your Local Authority to arrange an assessment.
Income Support
If you're under 60 and unable to work, or can only work less than 16 hours per week because of your caring responsibilities, you may be entitled to Income Support. If you're eligible for the Carer's Allowance, you may also be able to receive extra Income Support, known as a carer premium.
Community Care Grants
If your family is facing exceptional pressures because someone in your family is ill or disabled, you may be entitled to receive a Community Care Grant. In order to be eligible you must be receiving one of the following benefits:
Income Support
Jobseeker's Allowance
Pension Credit
Community Care Grants are means-tested and there are restrictions on what you can use them for. Our article Community Care Grants will give you more information on this.
Help with Council Tax
If you are caring for someone other than your spouse, partner or child in your own home for over 35 hours per week, you may be entitled to a reduction on your Council Tax bill.
The Council Tax reduction for carers is paid separately to Council Tax benefit for those on low incomes. You may be entitled to receive this as well.
More information on help with housing costs for carers and disabled people is available in our article Help with Housing Costs.
Carers and State Pensions
If you are a carer, for a child or relative for example, you might not have enough qualifying years for a State Pension. However, there are schemes in place to protect the pensions of parents and carers. You may be able to claim the Additional State Pension or Home Responsibilities Protection.
More information is available on your pension as a carer in our article Pensions and Carers.
Travel
If you care for a disabled person you could be eligible for financial help with the costs of helping them get around. Some help is especially for disabled people with mobility problems and other help is more general. Some relevant schemes include:
The Blue Badge Parking Scheme
The Motability Scheme
Vehicle Tax Exemption
More information on the specifics of these schemes is available in our article Help with Transport.
Fun
Many tourism and leisure venues provide a discount for disabled visitors and a further discount or free entry for their carer or another companion. Many venues advertise this with their prices, but if not it's always worth asking.
Venues might include cinemas, swimming pools and museums.
You might also like...
I have a disabled daughter who has got learning difficulties and epilepsy and cerebral foliate diffency and was wondering if there was any grants I could get to help pay for a fence in the garden as there is a road right outside and I cant let my daughter play out as she has no awareness of danger and would just walk out in front of a car so its really a safety issue for me any suggestions appreciated
I have to care for 3 disabled people but only claim carers allowance for one is this right
anna
- 4-Oct-13 @ 9:18 AM
I am a 73 year old paraplegic and have been wheelchair bound for 37 years now. I receive full disability allowance etc. When I first married my wife, she was working and she received carers allowance. But since turning 60 years of age and taking her old age pension which was her due right, having paid in to National Insurance for this, her carers allowance stopped. On appealing to the Dept.of Work and Pensions, we were astounded to find that you cannot be in be in receipt of two benefits. Her Old Age Pension which she contributed to is now classed as a benefit, which doesn't make sense to us. There are people out there who are on more than one benefit so I do not understand how she can be penalized for deciding to retire from work. There must be many many more OAP's caring for loved ones, and who are in the same category as my wife I'd appreciate your views on this and having noticed a pamphlet on the wall of my Doctors surgery saying that there is a new carers reassessment benefit, will we be able no get some sorely needed financial help? Brian T ShortB.A(Arch) SIA.
shortyboy
- 8-Aug-13 @ 10:31 PM
I do not claim benefits.i live hand to mouth, but the last month I have been full time carer for mother who has cataracts, stage 2 diabetes, foot amputation, plus due to her condition had a fall and fractured her phema just below the hip on the same leg as her amputation, because of this I have no choice but to stay with her until god willing she recovers enough to no longer need my constant care.
rambo
- 24-May-13 @ 3:48 PM
I am a disbled person and my 21 year daughter's my carer. I have a car through the motability scheme. I am finding it harder and harder to drive and would like to know if my dauhter could get any financial help to learn to drive
Gilly
- 27-Feb-13 @ 1:12 PM
how do i get help keep asking but don't get it reg
elizabeth pickard
- 28-Feb-12 @ 1:31 PM