Q & A: Long Term Care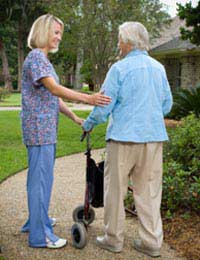 Got a question about long term care? Here we answer a few of the most common questions relating to the subject of long term care.
We Own Our Home and Have Savings. Do We have to Sell Up?
Q:
My wife needs to go into care. We own our own home, and have some savings. The mortgage deed is in both our names. Will we have to sell our home to pay for my wife's care fees?
A: You will not be required to sell your family home to pay for care. The law currently states that your family home will not be part of the means test as long as one of you continues to live in it. If you have any joint savings this will be means-tested. If you have savings below the threshold of £22,250 you should qualify for free care.
Nursing Home or Residential Care?
Q:
My husband requires full-time care. Does it make a difference whether he goes to a nursing home or chooses residential care instead?
A: This is a very important decision and it's not one that you should be taking on your own and without professional medical advice. Your husband needs to be given a formal assessment to determine his care needs. If, for example, it is decided that he needs round the close nursing care, then this would only be provided by a nursing home. If this is the case, the State will be responsible for paying for the lion's share of the fees.
If it is determined that your husband does not require nursing home care, you will be means-tested and be expected to pay the care fees if you have assets worth more than the £22,250 threshold.
Parents Both Need Care - How Do We Fund it?
Q:
My father was diagnosed with Alzheimer's disease and has been in a nursing home for the past five years. My mother has been finding it harder to cope on her own and we have decided that she would be better off to go into residential care. Should we sell my parents' home to pay for their care fees?
A: As I'm sure you know, at the moment your parents' home is not included in the care means test. This will change, however, when your mother moves into residential care. From this point, the home will be considered an asset and will be included in the fees assessment for both your mother and father.
Most local authorities give people 12 week's grace before they will reassess the fees claim. After this, you will be expected to make a contribution towards their fees. You can choose to sell the home, or arrange for an equity release. Before you make a decision, it might be worth finding out whether your mother might be suitable for sheltered housing or whether social services may be able to provide a level of care that would allow her to stay in her own home.
Will Money in Joint Account Be Considered in Means Test?
Q:
My mother needs to go into care. She does not have any savings in her own name, but she has a joint account with my father containing around £30,000. Will this be included in the means test?
A:The means test will only be based on half of the money in the joint account. Half will be excluded as it is considered to be your father's. This means that with savings of around £15,000 your mother's means test should see her below the threshold and she will receive state assistance with her care requirements.
You might also like...
@Smallfry.This seems like a silly anomaly in the system that the local council cannot be bothered making the effort to get around. It's difficult for us to give credible advice without knowing all the facts, but your local MP or citizen's advice bureau may be able to help.
FundingCaring
- 19-Nov-14 @ 2:07 PM
My husband had regular respite at a care home that he loved, which was paid for via the Direct Payments scheme, via the local council. Sadly he has now had to go into a Care home permanently. The local council will fund the care BUT not for the Care home he usually stays at. I'm aware that the care home charges more than the council funding allows, and we are currently looking for a charity to make up the Top-up fees but the council will not let him choose this option as they say they have no contract with this particular home. I can't understand it, they have happily paid for him to stay there for respite for the last 2 years! He is physically disabled, only 56 years old but he is being forced to live in a home full of old people, miles from home, even though the more suitable home has vacancies. This just seems SO wrong, he is now suffering depression and feeling suicidal because of this situation. Is there ANYTHING we can do? ANY help would be hugely appreciated.
smallfry
- 18-Nov-14 @ 5:05 PM