Paying for Care Yourself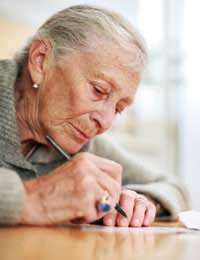 If you wish to receive help to pay for your care needs in old age, you'll be required to undergo a financial assessment to determine if you are entitled to any financial help and if so, how much.
This assessment is based on factors such as any income, capital, investments and savings.
However, if you know you can afford to pay for care fees yourself, and would prefer to make your own arrangements you don't have to undergo this assessment. In this situation it's acceptable to go to care homes directly and pay for everything yourself.
If this is what you plan to do, you do have a wider range of choice and autonomy over your care. However, you must make sure you have planned accordingly and are fully aware of the financial implications.
The Cost of Care
Based on average fees and lengths of stay, it is estimated that the typical total care home fees for each elderly person could cost up to £112,000. These fees will also vary depending on the level of care that you require, the home you stay in and the resources that it has.
It's a good idea to do some research on the cost of care homes that you would ideally like to stay in to get an idea of what you can afford.
The Future
Even if you can afford to pay for your own care costs now, it is strongly recommended that you seek advice from your Local Authority first. There could be a time in the future when you can't afford to pay your own care costs, and it's important to find out how paying your own care costs now without undergoing assessment could affect any future financial assessments you might have.
You will also need to assess the impact of running out of money to pay for your care fees later on and having to move to a different home, which could cause distress and disruption.
If your savings fall below a certain level (£21,500) you could be eligible for help with your care costs from the Local Authority. One possibility in this scenario is that you could receive Local Authority help towards staying in your chosen care home, but you, or your relatives, would need to pay the difference in cost between what the council will pay and what the fees are.
If there are specific reasons which you should stay in the same home, the council may be willing to pay the fees.
Paying for Care
There are a number of ways which people are able to pay their own care costs. These include:
Savings: These savings may or may not be through specifically saving for care in old age. However, more people than ever are starting to plan financially for care in old age.
Investments: Investments can provide money to pay for care on an immediate or a more long-term basis. Our article Financial Planning for the Cost of Care When You Get Older will help you with this.
Equity release: Equity release plans can give you access to some of the money which is tied up in the value of your home. Our article Equity Release to Pay for Care will help you with this.
Help from relatives: Your children or family may help to pay for your care, in order to give you the care you would like. It is a good idea to discuss care needs, preferences and finances frankly with your children before the time when it is necessary actually comes.
Immediate need care fee payment plans: These financial plans can provide you with a lump sum up front to pay for care home fees, based on your life expectancy. More information on these plans can be found in our article Immediate Care Needs Plans.
You might also like...