Funding for Independent School Due to Deafness?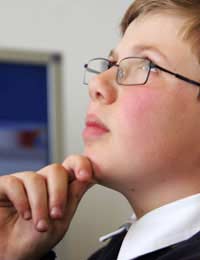 Q.
My son is profoundly deaf in his left ear, he is currently attending a state primary school, (aged 8). With 30 or so pupils he is struggling to hear all the lesson content. We are managing to pay for a private tutor to ensure he doesn't fall behind and he does really well on a 1:1 basis.
With this in mind would my son be entitled to any funding to attend an independent school where the classes are smaller/noise level lower?
(Mrs Debbie Russell, 23 September 2008)

A.
Although it may be possible that there is funding available to help pay for an independent school education for your son, first of all it will have to be established what is best for him. This will begin with assessing whether his current school is adequate for his needs and if any improvements can be made so that it is.
Contact your son's school. There is something called an SEN code of practice which schools must adhere to. The first stage to improve things for your son could be something called School Action. This may include further assessment, or the adoption of new teaching methods or equipment. Teachers will use something called an Individual Action Plan to record the changes made to help your son and the progress he makes.
If School Action doesn't help, the next stage is School Action Plus. This is where external advisers come in to assess and make recommendations about how to improve an SEN child's progress at school. This could be from an educational psychologist or language therapist for example.
The SEN code of practice defines what 'adequate progress' is.
If your child is still struggling after these actions have been taken, you can request a statutory assessment through the school or the Local Authority. Following this multi-disciplinary assessment, the Local Authority will produce a Statement of Special Educational Needs which will outline the SEN provisions that are necessary and will be made for your child. It is possible that this could include a specialist or independent school, which could be funded, or partly funded, by the Local Authority.
Additionally, it's worth investigating the bursaries and scholarships that individual independent schools offer. At least 20% of pupils at private school receive some financial help with their fees. Independent schools offer scholarships based on various abilities.
Scholarships are often worth up to 50% of the full fees. Check with schools on an individual basis to find out about any financial assistance they offer.
Finally, there are various charitable organisations such as the National Council for Disabled Children and The National Deaf Children's Society who may be able to provide information on any extra help you could receive with your son's educational costs.
You might also like...