Caring For An MS Sufferer: A Case Study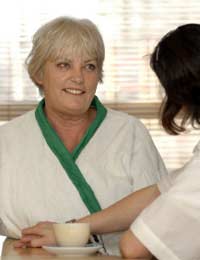 Lisa's mum is 60 and lives in an annexe to Lisa's house. She has carers come in daily, an arrangement which was organised by the family's social worker. As Lisa and her mum live in a fairly remote area, there are not many carers which cover that area.
Lisa's mum has Multiple Sclerosis. Lisa said: "On a good day mum can do everything for herself. However, she has relapses and remissions and on a bad day she can do very little. On an average day, she needs help with her catheter and with minor household tasks, but on a bad day she needs full care." Lisa usually cooks her mum's main meal at night and when she is well her mum can manage to prepare herself a simple lunch.
Prior to the carers being taken on, the social worker discussed with Lisa and her mum the criteria that was important to them in a carer. Lisa explained: "We were looking for someone to come in, in the morning and check that mum was OK."
Lisa described a recent situation where her mother was very ill with pneumonia and wasn't found until 10am the next day. She said: "After this we asked for someone to come in for quarter of an hour each morning to make sure she was up and to alert us to any problems."
Lisa has an arrangement with a care agency that the carers should come in for 15 minutes each day. The care agency workers are paid at an hourly rate of £11 per hour.
Problems
One problem Lisa is working on with the care agency is the amount of time the carers spend with her mother and the amount that they do for her. Lisa reports that the carers often stay longer than the allotted 15 minutes, helping with housework and spending time with her mother doing activities such as painting her nails. Although Lisa is not inherently opposed to this, it adds on to the carers' hourly bill.
There have also been a few issues with the standard of the carers' training, although overall Lisa and her mum have a good relationship with the carers.
Having a Carer
Lisa says that her mum is happy about having a carer. She said: "I think she enjoys the company as well. Aside from the family who she sees every single day, it's somebody else to talk to about their lives as well." She said it had made a "big difference" to her mum's life, especially as she no longer feels as dependent on her child.
Lisa said it has also improved her own life. She explained: "It's reassuring to know that someone is checking if mum is OK."
Finances
Lisa's mum was means tested and it was decided that because of her savings she would pay for carers herself. However, Lisa explained: "Her savings are in shares which have dropped in value due to credit crunch!"
Lisa said her mum is "very very worried" about how she will continue to pay for her care, although Lisa also says her mum doesn't fully understand the situation.
Lisa is now looking into having her mum's financial situation re-assessed in the light of recent developments.
You might also like...