Coping With the Stress of Caring for a Disabled Spouse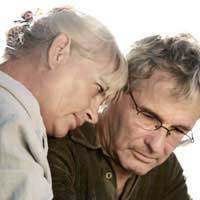 A recent study revealed that the stress of caring for a disabled wife or husband increases the risk of stroke substantially for the carer.
Stress related symptoms suffered by the carers who participated in the survey included depression and feelings of loneliness and isolation. The symptoms were matched with carers' risk factors including age, blood pressure, cholesterol levels, smoking and diabetes. The association between stress and health problems was found to be significantly stronger in husbands than in wives.
There's little argument that caring for a partner suffering from a disability is highly stressful, but what can carers do to ensure that their own health doesn't deteriorate? Firstly, those caregivers who are feeling the strain can and should seek help, including counselling and additional assistance.
Taking Care of the Carer
It's a common failing. All too often carers can be so preoccupied with the health and well-being of the person they are looking after that their own lives take a back seat.
No matter how well you try to deal with your role as a carer, there will inevitably come a time when you experience higher than normal levels of stress and feelings of struggling to cope. It is important to appreciate, however, that if a carer can eliminate stress it can improve the quality of their own life, this will also positive effects for the person being cared for.
Understanding Stress
Health experts believe that small amounts of stress in our normal daily lives can be good for us, although continual stress is known to cause health problems.
Unfortunately for most carers, they find themselves in a situation, not of their own making, that can be a constant cause of stress. As well as taking on several additional responsibilities, there may also be financial problems and feelings of frustration and hopelessness to take into account.
Ways to Fight Stress
The first steps to avoiding stress involve trying to identify any symptoms of stress you may be currently experiencing. These could include 'unusual behaviour', such as displaying a short temper, over-reacting to minor setbacks, shouting at people or taking out frustrations on people who are unaware of what you are feeling. These sort of reactions tend to cause symptoms such as a lack of appetite, poor sleeping patterns and headaches.
For carers in particular, stress has a tendency to centre on mental and emotional pressures, rather than physical. One of the major effects of stress is that the body is constantly on 'red alert', often without any way to relax or find a physical release through exercise. Possible ways of dealing with these feelings of stress can include:
Using friends and family to talk through your feelings and to ask for their support
Taking time to get exercise that will be physically rewarding and also take your mind off any stressful situations you are experiencing
Seeking help and advice from your local doctor, pharmacists or other health professionals who are aware of your carer role
Using the internet to find message boards, blogs and facebook groups for people in a similar situation to your own
Over time, stress can not only affect the carer, but can also have a significant impact on the people around them, including the person they are caring for. Stress can damage relationships, so it is vital to identify the causes of stress as soon as you can and take steps to address them. Identifying and dealing with your stress is an important part of continuing your role as a carer, whilst ensuring that your own health does not suffer.
You might also like...
Im looking after my husband with end stage renal disease...im struggling with the total life xhange..imm 44 and I simply dont have a normal life.
twistytop
- 18-Jun-17 @ 8:22 AM
Disabled get carers allowance my partner carter and know what's to seperate help
Chelsea
- 13-Feb-17 @ 4:18 PM