Coping With the Stress of Caring for a Disabled Spouse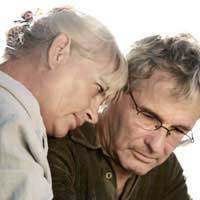 A recent study revealed that the stress of caring for a disabled wife or husband increases the risk of stroke substantially for the carer.
Stress related symptoms suffered by the carers who participated in the survey included depression and feelings of loneliness and isolation. The symptoms were matched with carers' risk factors including age, blood pressure, cholesterol levels, smoking and diabetes. The association between stress and health problems was found to be significantly stronger in husbands than in wives.
There's little argument that caring for a partner suffering from a disability is highly stressful, but what can carers do to ensure that their own health doesn't deteriorate? Firstly, those caregivers who are feeling the strain can and should seek help, including counselling and additional assistance.
Taking Care of the Carer
It's a common failing. All too often carers can be so preoccupied with the health and well-being of the person they are looking after that their own lives take a back seat.
No matter how well you try to deal with your role as a carer, there will inevitably come a time when you experience higher than normal levels of stress and feelings of struggling to cope. It is important to appreciate, however, that if a carer can eliminate stress it can improve the quality of their own life, this will also positive effects for the person being cared for.
Understanding Stress
Health experts believe that small amounts of stress in our normal daily lives can be good for us, although continual stress is known to cause health problems.
Unfortunately for most carers, they find themselves in a situation, not of their own making, that can be a constant cause of stress. As well as taking on several additional responsibilities, there may also be financial problems and feelings of frustration and hopelessness to take into account.
Ways to Fight Stress
The first steps to avoiding stress involve trying to identify any symptoms of stress you may be currently experiencing. These could include 'unusual behaviour', such as displaying a short temper, over-reacting to minor setbacks, shouting at people or taking out frustrations on people who are unaware of what you are feeling. These sort of reactions tend to cause symptoms such as a lack of appetite, poor sleeping patterns and headaches.
For carers in particular, stress has a tendency to centre on mental and emotional pressures, rather than physical. One of the major effects of stress is that the body is constantly on 'red alert', often without any way to relax or find a physical release through exercise. Possible ways of dealing with these feelings of stress can include:
Using friends and family to talk through your feelings and to ask for their support
Taking time to get exercise that will be physically rewarding and also take your mind off any stressful situations you are experiencing
Seeking help and advice from your local doctor, pharmacists or other health professionals who are aware of your carer role
Using the internet to find message boards, blogs and facebook groups for people in a similar situation to your own
Over time, stress can not only affect the carer, but can also have a significant impact on the people around them, including the person they are caring for. Stress can damage relationships, so it is vital to identify the causes of stress as soon as you can and take steps to address them. Identifying and dealing with your stress is an important part of continuing your role as a carer, whilst ensuring that your own health does not suffer.
You might also like...
I can't believe that I find this post! I am looking for a community to support but I didn't find! My husband and I married for almost 9 years, he had 6 operation on his right leg in 4 years. I was with him ans supporting him through that hard time and he was able to walk again in 2019. 5 months ago, he had a tibial plateau fracture in the left leg and had operation for internal fixation. He become bed bound after this operation, lost sensation, no movement in the left leg and due to the 6 previous operations on the right side ,he can not bear any load and can not walk with crutches. I am a mother of 9 yrs and 1,5 yrs girls and I am working in the morning. I am so tired and angry, I don't have anyone to stand by me. Sometimes i wish it was me on the bed unable to move, I need to take care of my baby girl and my other daughter needs me to chat and go out to have fun at least going out shopping but I cant do this, I can not be happy anymore, I am crying while i feed my baby. In my country we dont have specialist for peripheral nerve injury , my husband needs operation as soon as possible within 6 months window and now we reach 5 months without treatment. I contact many doctors overseas and they are able to do the surgery to him and he may needs nerve graft or nerve transfere , but I can't afford it. I feel like drowning, I love him so much. I hate everyone and I am so angry, stressed, lack of sleep, binge eating, crying most of the tome and i dont have time to look at myself or taking shower for days. He sometimes blame me of his accident because he felt from the ladder while he is arranging my babys room. Please if there is community pls help me to fimd a way to re enjoy life.
Me and my husband together for 13 years and he was a alcoholic and abusive, physical and emotional, he was addicted to porn and did everything including get abusive when I tried to talk to him, little did I know he had psycological problems, due to motor neuron disease, just found out, he is bed ridden now, and are continuing with the manipulation and psycological abuse, he told me he never wanted to marry me, but he asked me himself, so I have no idea how to pretend and tend to his every need, but i do it, i feel as if I am just his maid and never in 13 years even heard him being kind to me, I am so angry but I pray, more then ever hoping that God would have mercy on me, as I dont know how to go forward
can someone please tell me why I'm so enraged and angry all the time with my recently disabled partner. I love them but I cant bear life like this. I wish and want to just be supportive but all I am is angry and depressed and feeling like I'm just too old to be doing everything and worrying what if anything happens to me?
taffy
- 11-Dec-20 @ 4:18 PM
Not only the carer I'm the cook cleaner ,gardner, builder, plumber, taxi, painter, decorator, bill payer ,organiser. All done alone no help no one helps me ! I'm nearly burned out my back hurts my brain hurts ! Every trip outdoors you have to constantly think of that persons wellbeing, their equipment!all needs looking after tooyep I'm also a mechanic. Because being stuckat home caring for someone whilst on benefits doesn't pay for property maintenance exc its awful and I hate myself for hating my life looking after a man that is uninterested in anything due to his illness. I have no life of my own and no longer have a husband just a dependant 24/7
Tired.com
- 8-Nov-20 @ 7:06 PM
To Marywho posted 9-May-20... I can relate very much to your situation.We are 23 years into our relationship - 20 years married now.We were so very happy and had the relationship most dream of.We have raised 3 wonderful young men.Over the last 10 years, hubby's diagnosis are many resulting in severe daily chronic pain, fatigue, depression, anxieties, mood swings, etc. Due to his meds, his cognition and communication has been effected.I am not an angel, and have made mistakes as I was learning to deal with these issues.Like you, I am the only person in our family "still standing."He's become a very negative person and I get the brunt of all of it.Within this time period, he has pushed all family members away, even our sons - one of which I never thought would this would occur.Since I am his "entire world" it has been draining, frustrating, stressful and I am exhausted mentally.He chatters at me constantly, which I learned to tune out, but that brought its own frustration and anger for him toward me.I've been depressed and probably should return to taking antidepressants but I won't.I don't really speak much when at home, as there is no need to hash over and argue about the same details continuously.I am a person who doesn't really cry for an emotional release. I have had to become too objective as a wife in order to be the carer needed.This hasn't helped, because I am now emotionally removed.He makes me feel that I am damned if I try to be helpful and kind, and I am damned if I don't spend every waking moment in his presence while at home.We've tried counseling, and some meds have done wonders for his mood swings.He has tried very much and some improvements occurred. Parts of those have fallen away and his negativity is still ever present.I have worked with a counselor and some family members who are psychologists.All advised that I need to leave for my own health. Due to some events that occurred a year ago, it became a deal breaker for me. It forced me to take a hard look at our future together.I have become more and more isolated from our children.His family are lovely and supportive by degrees to me, but really become nonexistent as my husband perceives it... which is true to a degree. Together, we recently came to the conclusion that I need to move out. In a fortnight, I will do so.There are no plans for divorce, he still needs my support in many ways; doctors, meds, insurance, friendship... which I still want to keep.We must find a way forward in a different regard.I, needless to say, am wracked with guilt.I do love him.I simply cannot do the daily battle or the loneliness anymore.I want my sons and their families in my future and to hopefully find some bits of joy in life.Although I am older than you, I still have decades ahead of me.So the choice has been made.I don't know what my future will bring, I hope my hubby & I can find a better way to be w
Lee
- 2-Oct-20 @ 11:22 PM
So tired depressed,lonely looking after my husband for the last 4yrs he has Parkinson lewy body with dementia,diabetic,macular oedemain his eyes and now diagnosed with bowel cancer,its so cruel,that he has all these things wrong with his. We have been married for 53yrs but the last 5yrs have been awful.Its hard work and I just cry every day,now my son lives with us 50yr old his marriage has ended due to him using drugs coke,I was devastated he was such a lovely person.He cant see what hes doing to himself,he takes no notice,have told him how silly he is,and his dad is dying on pallaitive care,and he wants to live ,and my son is killing himself with this stuff he just cant see it.i have had enough
Curly
- 19-Sep-20 @ 9:20 PM
My partner is a wonderful person who life has dealt a bad hand. And life deals bad hands out a lot. He has been left with a cognitive impairment that he did not ask for nor did I , went from a loving fun , active person to a struggling individual who has challenges every day.Its hard to help he does not understand a lot, but why do people walk away from friendship, I have not changed , he has changed. But he is still is aware that people don't visit and conversations are limited. I struggle with him, with others and myself , it's hard and no silver lining here. People say look after yourself you had better be strong for him, please be silent is all I can think when they start with the goodwill , they have no idea!
Tired
- 30-Aug-20 @ 8:58 PM
I am struggling more and more every day being the sole provider on a waitress wage trying to support my partner and his smoking habit that can cost anywhere from $40 and up a week and our 3 children. Ever since he got ran over and has degenerating discs in his back and nerve damage and depression, it has become more and more difficult to f im and myself as some one other thg an referee between him and th e children, care giver and mom at the age of 31. I'm drowning and I have no one near me who is willing to help even just to call and see how things are...I feel alone and stressed constantly and its affecting my work. It's really hard to stay with him most days and other days I think I can still do this and keep trying . But man is it getting harder to stay positive
Gypsy
- 28-Aug-20 @ 1:27 AM
I am really really struggling. My partner became very ill and very nearly died. Thankfully he pulled through but I had no idea what was in store for me. I'm working full time as we need the money to pay the rent while looking after him. I'm only 34 and I really can't do this anymore. I see no future and my partner sleeps all day on the sofa, barely able to lift a finger. I feel like he's being selfish and we're struggling so much financially. I have no idea what to do. I'm crumbling
Teachercarer
- 10-Aug-20 @ 3:48 PM
My husband has mood swings, tantrums, frustration due to his disability (MS). All his frustrations and anger comes out on me being the only person around him. We got married when I was 28, now married for 8 years. With time year by yearI am finding very difficult to cope with his disability and mood swings. We don't have children, and I have no emotional support from his family. My mental health deteriorated over years trying to cope with his anger and frustrations. I'm on anti depressants and feel very lonely and isolated. Thought of leaving him makes me feel guilty by friends and family and living with him makes me feel extremely lonely. No night goes by without crying on my pillow. I have run out of coping strategies. I feel I'm a complete failure and there's no point living. My parents passed away when I was little and siblings are all abroad and have their own lives. I work full time and comes back home to a lonely world. I feel I'm lost. With age, I've run out of ideas for distraction. Feels like I'm always running away. And now I'm tired of running and running. I don't know what to do with my life. My husband's frustrated behaviour crushed my lively, bubbly and optimistic personality I married him with 8 years ago. Now I'm a big ball of insecurities andpessimistic thoughts. I just don't recognise myself anymore. I need help.
Mary
- 9-May-20 @ 9:00 AM
Hello, I have been searching Forever to find an online support group for Caring for my disabled husband. Most sites are Old and as anyone that is a Caregiver having just One other person to talk to can make a world of difference. I Hope to hear from Anyone that is looking for the same. Thank You, VJ
I've seen my beautiful wife lose one leg then 10 years later lose her second leg. Both above knee, both no chance of prosthetics. Both from CRPS,I still love her to bits, but it's so hard!
Mike
- 23-Jan-20 @ 11:16 PM
I know God will never give you more than you can handle, but I'm so tired and fatigued of caring for my disabled husband for nearly 30 years now. He is getting worse, everyday is a struggle and all we can do is cry. He has Spinal Stenosis, Degenative Disk Disease, Afibliation, Diabetes, ongoing Vertigo, Sleep Apnea and Obesity. He suffers with severe chronic pain in his back and legs, everyday, all day. I have to work a full time job and have to leave him as I have to make an income for our survival. He can barely walk due to pain and never sleeps all night in our bed. He sleeps in his recliner most of the time and alternates to the bed during the night and early morning hours. He goes to his Pain Clinic monthly and now in fear his medications will end due to new laws of our rising Opiate addicts. His medications were decreased last month by his doctor and if you try to go to a new doctor, then you are automatically labeled as an addict because you are trying to see a new doctor. When will this ever end? We are so desperate for a miracle and I have no one to talk too.
Lizzy
- 14-Oct-19 @ 3:51 PM
Hi i am the one who needs caring for. I have a spinal injury and I am slowly going paralysed sadly it looks like the spinal operation could be as dangerous as me "gracefully' getting more paralysed daily. I am mindful of trying to be as independent as possible but it is really hard.I have thought about things the other way around and wondered if I should end things to free him of the burden of me. Is this the answer who knows? I definitely don't want him to stay with me through pity. Life sure is tough for us all.
Kerinoo
- 25-Jul-19 @ 6:47 PM
The stress of caring for a disabled partner broke up my relationship. It's so hard to be solely financially responsible, responsible for looking after a household and responsible for giving your partner the care they need and deserve. I've never felt more isolated or alone in all my life. I left the relationship broken both emotionally and financially.
James
- 26-Jun-19 @ 3:31 PM
It's very difficult caring for a disabled partner when you have to work. I feel like the assumption is that the care giver has no other job/ has an endless pit of patience.
Bob
- 16-Jun-19 @ 9:15 AM
Chris- Your Question:
My husband's making my life a misery I can't cope with him anymore he's becoming violent an also refuses to take his insulin unless he gets what he wants.his sugar levels were totally out of control last year.I've had enough I don't know what to do or who to turn to
---
Our Response:
Firstly see if you can talk to the GP (yours own if you don't share the same GP) for advice, they may be able to get a community nurse involved etc. Secondly try one of the many organisations that offer help and support to carers, here a some of them:
Carers UK
Support Line
AGE UK
FundingCaring
- 10-Jan-18 @ 2:31 PM
My husband's making my life a misery I can't cope with him anymore he's becoming violent an also refuses to take his insulin unless he gets what he wants .his sugar levels were totally out of control last year .I've had enough I don't know what to do or who to turn to
Chris
- 9-Jan-18 @ 1:23 PM
Im looking after my husband with end stage renal disease...im struggling with the total life xhange..imm 44 and I simply dont have a normal life.
twistytop
- 18-Jun-17 @ 8:22 AM
Disabled get carers allowance my partner carter and know what's to seperate help
Chelsea
- 13-Feb-17 @ 4:18 PM